Hubert Davis shares message to Leaky Black after Terquavion Smith injury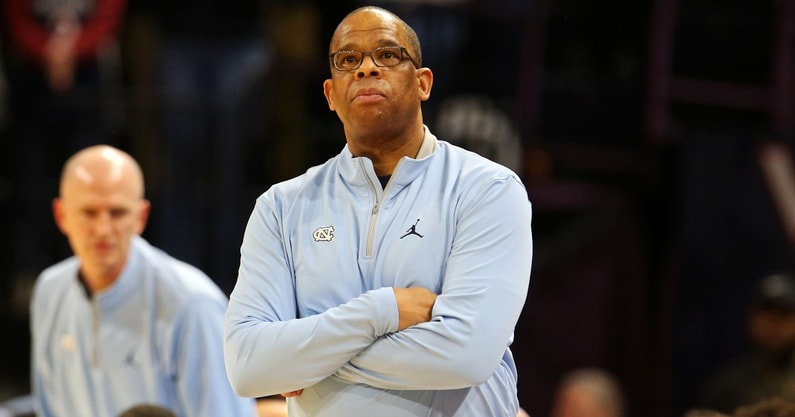 North Carolina and N.C. State's Saturday night basketball matchup was met by a frightful moment in the second half when Wolfpack guard Terquavion Smith was seriously injured following an awkward fall while driving for a layup. Smith was down for several minutes before eventually being taken off the court on a stretcher, and has since been listed as day-to-day following negative x-rays following his neck and elbow injury.
UNC guard Leaky Black was deafening Smith on the play, inadvertently hitting him in the face in an attempt to block his layup, and Tar Heels head coach Hubert Davis was asked what his message to Black was following his involvement in the injury.
"Well I talked to Leaky after the game and because Leaky is such a sweet, kind kid," Davis said. "He was worried about Terquavion, for both teams today was a contest between two unbelievably great programs and great teams and nobody wants anybody to get hurt or injured."
Black was given a flagrant two foul following the play leading to him being ejected from the game and left a heartfelt message to Smith via social media following his injury. But Davis said that wasn't the only way he showed his concern for Smith.
"And Leaky went over when they were taking Terquavion off the court and Leaky's already asked for Terquavion's phone number so he can call and just check up on him and see and make sure he's okay," Davis said.
Hopefully, Smith can have a speedy recovery and return back on the court with the Wolfpack soon, and hopefully Black can shake the aftereffects of his involvement in such a scary injury and moment.
NC State Basketball announces guard Terquavion Smith is 'day-to-day' after negative x-rays
NC State guard Terquavion Smith is day-to-day after heading to the hospital with elbow and neck pain following a hard fall Saturday during the Wolfpack's game against North Carolina, NC State announced in a statement Sunday.
Smith has also been released from the hospital.
"NC State men's basketball sophomore guard Terquavion Smith reported neck and elbow pain and had numbness in his right arm after a foul midway through the second half of last night's game at North Carolina. Due to the report of neck pain, medical procedure required the use of a backboard and stretcher to move him. Smith was taken to UNC Medical Center and all x-rays taken Saturday night were negative. He was released from the hospital and returned to Raleigh," the statement read.
Smith has released an unofficial update as well Saturday night on Twitter, indicating everything was going to work out
"I am fine appreciate all the prayers and concern," Smith tweeted.