North Carolina defender Tomari Fox learns result of NCAA appeal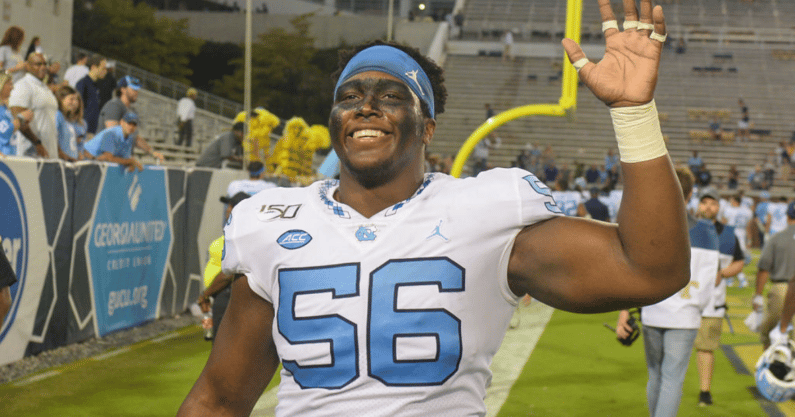 North Carolina defensive lineman Tomari Fox was denied his appeal of a one-year suspension for using a banned substance, according to ESPN's David Hale. The initial decision came before the 2021 Duke's Mayo Bowl and ruled him out for the following season as well.
The school stated at the time that Fox took a pre-workout substance which he did not know was banned by the NCAA. Because he already served part of his suspension during the postseason, the former three-star recruit would be eligible for any postseason games in 2022.
After the NCAA handed down its decision on the status of Tomari Fox's appeal, the school issued a statement from the player on the disappointment.
"Unfortunately, I will not be able to participate in the 2022 football season for reasons I cannot control," Fox said in the statement. "I'm disappointed in the decision, but I remain hopeful for the future. I will continue to give my all to Tar Heel Nation both on and off the field."
In three seasons with the Tar Heels, Fox has 95 tackles with 6.5 sacks and 10.5 tackles for loss. Last season he continued to establish his place on the defensive line with another big season after breaking out as a freshman and sophomore. 2022 will be his senior season, although he can continue playing thanks to the free year of eligibility given during the COVID-19 pandemic.
The Georgia native came to North Carolina in the class of 2019 as the No. 1,015 ranked player in the country and the No. 99 player in his home state. Since then, he has established his value and grown his NIL valuation to $14,000, according to On3 with over 1,600 followers.
His brother, Tomon, also played defensive end at North Carolina from 2016-21 as a former four-star recruit.