UNC Football: Dre Bly on whether Tony Grimes reminds him of himself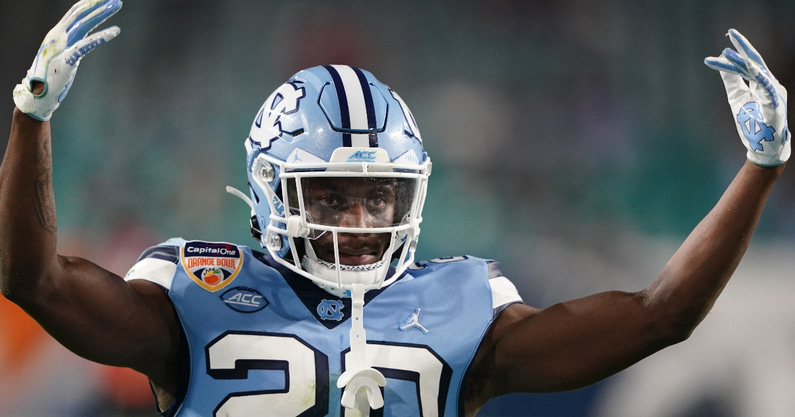 Throughout the history of the North Carolina Tar Heels football program, few have amassed the legacy that Dre Bly possesses. Fortunately, the former All-American cornerback for the Tar Heels returned to the program as the team's cornerback coach in 2019. 
Fast forward, former five-star recruit Tony Grimes came to North Carolina to help the program reach new heights. As he enters his sophomore season, his coach spoke on whether the cornerback conjures up comparisons to Bly's legacy.
"I will say this: he definitely talks a lot, right? So that's definitely something that he reminds myself of. And this is the other thing, I do feel like from where I'm from, we're very confident and we're very very competitive," said Bly, via Inside Carolina on YouTube. "And it shows more so in us than anything else, and so that's what I would say that's very similar. 
"He is very expressive and he loves to compete and it shows. And that's what I did. Shoot, I compete now. If you called me out right now and asked me to go out there and run some routes and you tell me I can't cover you, boy, I'll blow your mind. I'll get out there and put them things on you.
"So that's the way I'm wired. But I just think that's how he reminds me of myself. We compete, we always think we're going to win and he always wants to know more."
The will to compete is important as anything in the defensive back position. Moreover, it's one position where you need to have a short-term memory, always focusing on the next play.
Moreover, Bly's competitiveness helped him become a Super Bowl Champion, along with being a 2-time Pro Bowler and an All-Pro selection. It's a huge compliment that Bly sees some of what made him great in Grimes.
Dre Bly on Tony Grimes' potential
Continuing, Bly went on to state that while the product is far from finished, it's beautiful to see Grimes becoming more comfortable in his technique.
"I'd just say technique-wise. Last year, and this is how I was my first year and I told my guys this as well, even the first year when I intercepted all those balls, when I was here, I didn't specifically have the technique down that Coach (Ron) Case wanted us to play, my defensive back coach," said Bly. "I didn't really get good until the second year.
"So I told Tony, 'the finished product is far, far away.' And to see the growth that he's made from last year to now, him being more comfortable in his technique, him understanding routes is pretty cool to see."
In the end, Bly trusted the process and it rewarded him. As he tries to propel Grimes to new heights, he's the perfect teacher to get the best out of the young star.
Image courtesy of Mark Brown / Getty Images