WATCH: North Carolina drops uniforms ahead of Florida State matchup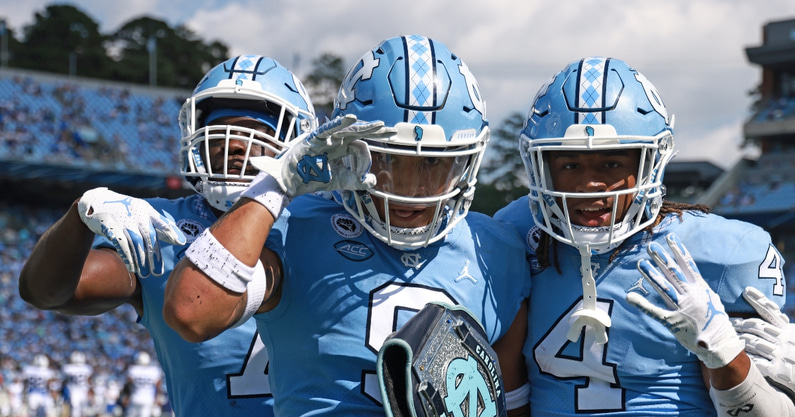 North Carolina (3-2) will host Florida State on Saturday in Chapel Hill.
On Thursday, the Tar Heels showcased their threads for the ACC showdown with cornerback Tony Grimes featured in the video.
The North Carolina Tar Heels paid homage to legendary Florida State coach Bobby Bowden ahead of this week's showdown. Bowden passed away this summer on Aug. 8, at the age of 91. He finished his career as the winningest coach at Florida State and the second-winningest coach in NCAA football history with 357 wins. He only trails Penn State's coaching legend Joe Paterno, who has 409 wins. Other fellow ACC schools have also done things to show their respects to Bowden this season as well.
UNC showed class in displaying this mural inside of Kenan Stadium paying tribute to the legendary former FSU coach.
North Carolina downs Duke
North Carolina is fresh off celebrating a dominating win against bitter in-state rival, Duke. Quarterback Sam Howell put together another solid game with 321 yards through the air. He completed 18 of his 32 pass attempts for a completion percentage of 56.3, and Saturday was his second-straight game without an interception. Since their opening loss, Howell has only thrown one interception in the past four games. His favorite target was yet again sophomore receiver Josh Downs. He caught eight passes for 168 yards and one touchdown.
The UNC defense showed up in a big way, a refreshing site to say the least. The seven points they gave up are the fewest points allowed by the defense this season. They held the Blue Devils to 314 yards of total offense, and they were effective at getting the Duke offense off the field on third downs, as they allowed just two conversions out of 15.
The North Carolina defense forced two turnovers on the day — one fumble, and one interception. For good measure, they returned the fumble 63 yards for a defensive touchdown. The defense may not have pitched a shutout but washed away the Blue Devils' only touchdown with one of their own.
North Carolina is still in the mix in the ACC Coastal Division, so the Tar Heels can't afford to overlook the Seminoles who have flashed at times, but struggled to find the win column. The game is set to kickoff at 3:30 p.m. ET.