Simeon Wilcher, 2023's No. 3 combo guard, commits to North Carolina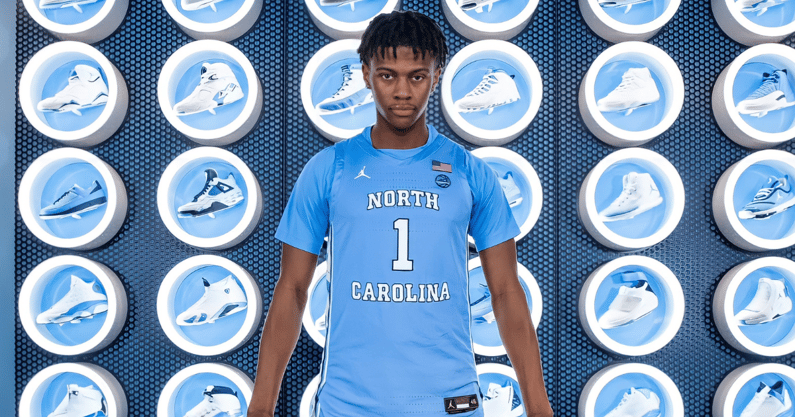 Simeon Wilcher, a 6-foot-4 combo guard out of Roselle (N.J.) Roselle Catholic has committed to North Carolina basketball for the class of 2023, he tells On3.
Wilcher is UNC's first commitment of the 2023 class. They're also targeting Robert Dillingham, Mackenzie Mgbako, GG Jackson, among others.
Simeon Wilcher, the No. 13 overall prospect in the On3 50, ultimately chose North Carolina over Nebraska and UConn. He also received offers from Auburn, Kansas, Oregon, Ohio State, Miami, amongst others.
Simeon Wilcher on why he chose North Carolina
"The environment, the fans, the coaching staff, the players on the team, the GA's… the entire environment made it feel like a second home," Wilcher said. "There was no need to mess around or beat around the bush because this opportunity doesn't come for everybody. I wanted to lock it in so now I can be stress-free and go out there and play my game and hoop without any worries about this college stuff anymore."
The history of North Carolina played a part in Wilcher's decision
"The lineage and the history that they have.. that's always been a factor for me," Wilcher said. "When we went on campus to see the school and to talk to the coaches and see everything… It made me feel like this is the spot for me. Especially with me having the goal of playing in the NBA. The whole coaching staff played at North Carolina, and they all came back so that just says something about how Carolina is as a whole."
Wilcher's relationship with UNC's coaching staff played a role
"The entire coaching staff has great energy and they are all positive people," Wilcher said. "They're good people to be around. That really played a big part. I have a great relationship with Coach (Jeff) Lebo and Coach Hubert (Davis). It really says a lot because me being a junior, a lot of head coaches don't really go out and try to recruit people as hard as they do. I feel like with a school like North Carolina, you can't just sit around and waste time. You gotta get it done so by the time you can go there, you already know everything. It makes it easier for you to translate everything."
What does Wilcher want to improve on before he arrives at UNC?
"I feel like I need to improve on everything," Wilcher said. "Things that I can do on the high school level, all have to be mastered for the college level. At the college level, all those guys are future NBA or overseas guys so you have to be ready to be the best player you can be. You have to be strong enough, physical enough."
Wilcher turned down the Overtime Elite league
"My end goal was to always go to college because the money is going to come," Wilcher said. "I don't play basketball just for the money…I play because I love it."
"I feel like with the OTE stuff, you're kind of rushing yourself into adulthood," Wilcher said. "You're not going to be able to walk across that stage as a senior in high school. That's something that not only you look forward to, but your family looks forward to. You're not able to do the things that regular high school kids do. I know that kids that go through this basketball stuff… people tell you that you're not a regular kid but still… You need those experiences. I just feel like once you sign that paper or that contract, you're putting yourself out there to the Overtime Elite, you're going to lose your adolescence to manhood because now you're not just playing to play, you're playing for income. It's not just the game anymore. You're really a professional athlete. Not saying that I'm not ready for that, I just think there are certain things that I have to do personally before I can really take that step. At 17, that's kind of hard for kids to do."