WATCH: UNC football star Tony Grimes makes the day of Hokies fan after loss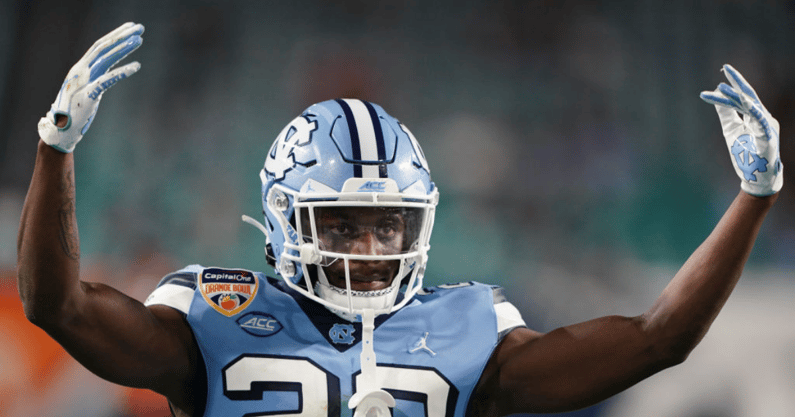 UNC football star Tony Grimes showed a ton of class after the Tar Heels' unexpectedly fell to Virginia Tech on Friday night.
The North Carolina defensive back– who hails from Virginia Beach– showed genuine sincerity when the young Hokies' fan tracked him down after the game with some impressive artwork she did of the Tar Heels' starter.
Grimes recorded one tackle and a pass deflection in the Tar Heels' loss.
Mack Brown concerned about UNC football
Following Virginia Tech's upset victory over 10th-ranked North Carolina, UNC head coach Mack Brown commented on his concern on the Tar Heels' ability to replace last year's talent on offense.
"I was really concerned," Brown said after the game. "No. 1 because it is an unknown and those guys were really, really good. They weren't as good the first year as they were last year. We're kind of back to the unknowns of the first year like we were two years ago because Dyami [Brown] and Daz [Newsome], Javonte [Williams] and Michael [Carter] [are gone]. These guys just have to come faster, so when you play a really good team in the opener, in that environment, you're going to find out every concern you got. Those were exposed tonight and we got to go back and address it."
Brown's concern didn't stop there when it came to criticizing his UNC football team.
"Most people had a scrimmage this weekend and we had a very difficult team on the road in a tough environment," Brown said. "It showed us some concerns that we've got to go back in and fix. Now we should know more about who our backs are, we should know who the receivers are that can step up and play, that's been a concern. We've got to figure out why we did not play well, the first half on defense as well."
Tight end James Mitchell, who received All-ACC honors last season, didn't record a catch.
UNC football finished with 146 rushing yards, averaging 4.9 yards per carry.
Tennessee transfer Ty Chandler led the team in rushing with 66 rushing yards on ten carries. Second-year back D.J Jones rushed for 43 yards on six carries, with 29 of those yards coming on the final play of the first half.