Report: Northwestern transfer Ryan Young starts to plan visits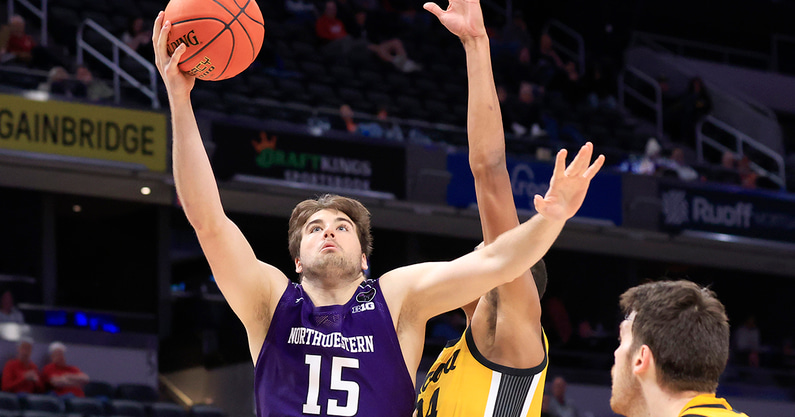 Northwestern transfer Ryan Young is getting an impressive list of visits together as he prepares to make his transfer portal decision.
Young is planning to visit Duke, Boston College, Georgia Tech and Georgetown, according to CBS Sports' Jon Rothstein. He also might visit Notre Dame and possibly Miami, Rothstein added.
Young started 31 games as a freshman at Northwestern in 2019-20 but largely came off the bench the last two seasons. He averaged 9.0 points and 4.2 rebounds per game in 31 appearances this past season while also shooting 55% from the field. He entered the transfer portal March 24, and is now starting to focus in on a potential destination.
Young was a three-star recruit from the Class of 2018 and the No. 4 recruit from the state of Pennsylvania that year, according to the On3 Consensus, a complete and equally weighted industry-generated average that utilizes all four major recruiting media companies.
Check out the full On3 Transfer Portal Rankings here.
Duke among lengthy list of teams to contact South Dakota State transfer Baylor Scheierman
After declaring for the NBA Draft while maintaining his eligibility, Baylor Scheierman decided to enter the transfer portal. In the process, he might be becoming one of the most sought-after players in the portal's short history.
Scheierman, who starred for South Dakota State last year, is hearing from a long list of schools less than 24 hours after hitting the portal, according to ESPN's Jonathan Givony. Duke, Kentucky, Creighton, Gonzaga, Kansas, Texas, Florida, UCLA, Louisville, Michigan State, Baylor, Nebraska, Oregon, Wisconsin, Memphis, Washington, Texas Tech, Alabama, Arkansas, Wake Forest, Texas A&M, Clemson, Mississippi State.
"Many more" teams have also contacted him, Givony reported. The reigning Summit League Player of the Year has a long line of suitors as he decides what to do with his last two years of eligibility.
Last year at South Dakota State, Scheierman averaged 16.2 points, 7.8 points and 4.5 assists to help the Jackrabbits to a 30-5 overall record and a perfect 18-0 record in conference play. They appeared in the NCAA Tournament as a No. 13 seed and fell to Providence in the first round of the big dance.