Brian Kelly reveals what makes Isaiah Foskey scary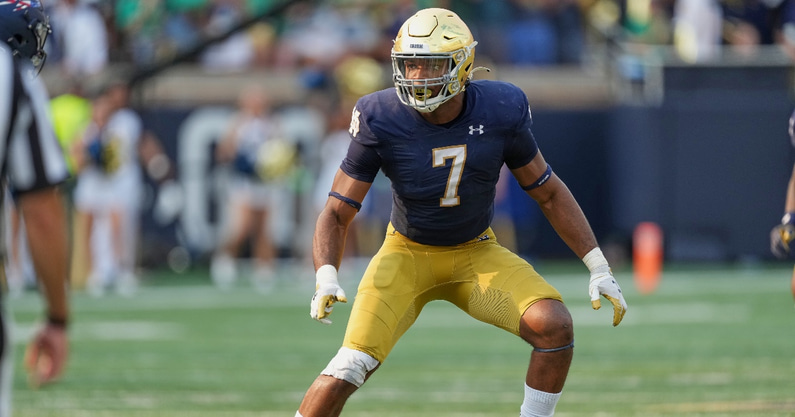 Notre Dame needed a push rusher to step up after losing some front seven talent to the NFL, and Isaiah Foskey has been that threat this season.
Foskey plays the Vyper defensive end position for the Irish, and he has become a nightmare for opposing defenses. He has eight sacks and 8.5 tackles for loss on the season, and his 87 sack yards lead the nation by 20 yards. 
According to Irish head coach Brian Kelly, Foskey's ability to transition smoothly from former defensive coordinator Clark Lea to current defensive coordinator Marcus Freeman is a result of hard work and focus both on and off the field. 
"The kid is, and we all know we use this work 'freak,' but he takes care of himself," Kelly said.
Kelly added Foskey eats well and gets plenty of sleep, which helped with any scheme adjustments that came with the coaching switch up. 
"So when he comes to practice, you can throw some stuff on him, and he handles it very well," Kelly said. "Some guys wouldn't. But he does. There's more than just this outward appearance of an athlete."
Foskey, a redshirt sophomore, had 4.5 sacks last season. He certainly was not a non-issue for opponents, but his explosion onto the scene in 2021 has been one of the more impressive stories out of Notre Dame this season.
Foskey has chance to break long-standing Irish record
Foskey has a chance to break one of the older records in South Bend. Former defensive lineman Justin Tuck, who went on to be an All-Pro two-time Super Bowl champion for the New York Giants, had 13.5 sacks in 2002. He also had 19 tackles for loss.
Current Pittsburgh Steelers and former Irish defensive end Stephon Tuitt had 12 sacks in 2012. No one else has come close to Tuck's mark. 
There are obvious comparisons to be made between Foskey and Tuitt, but Kelly addressed some of the differences between the two, namely that Tuitt was not on the kickoff team. Foskey is. 
"This dude's on kickoff team," Kelly said with a laugh. "When you turn [kickoff replay] on and see Foskey on the kickoff team, why aren't you fair catching every one of them?"
Foskey's versatility is clearly a strength, and he continues his campaign to ink his name in the Irish record books.