CFP chairman discusses how Marcus Freeman's promotion could impact Notre Dame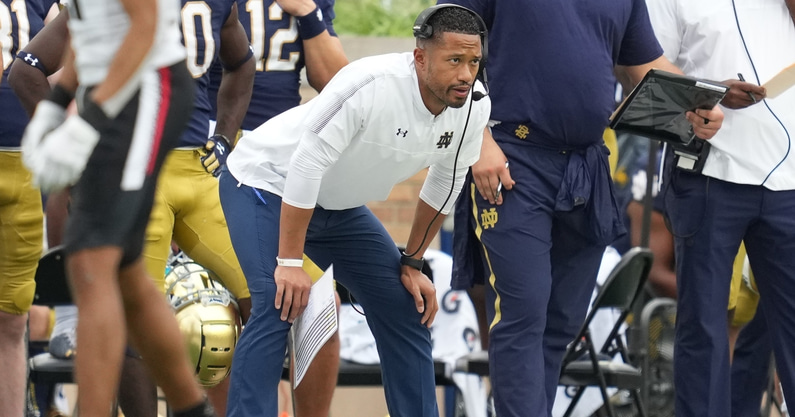 While Brian Kelly's departure obviously shook up the college football landscape, it also could have potentially hurt Notre Dame's College Football Playoff chances. After Notre Dame opted to promote defensive coordinator Marcus Freeman to become the team's next head coach, CFP committee chairman Gary Barta has acknowledged that the move will likely help Notre Dame in playoff discussions.
"We met last night as a committee as we got the weekend underway, and we talked about Notre Dame, the continuity, the quickness [of hiring Freeman to replace Kelly]," Barta said of Notre Dame on College GameDay Saturday morning. "And I can tell you, it is still part of our protocol, but based on our conversation last night, I'd be really surprised if it factors in at all in the conversation evaluating Notre Dame."
Freeman, just 35 years old, has taken over at Notre Dame following the team's 11-1 season thus far. He previously coached as Cincinnati's defensive coordinator from 2017-2020, leading a top defense. That has continued this year at Notre Dame. The Irish are allowing just 18.3 points per game.
The hire of Freeman made a lot of sense for Notre Dame from a purely futuristic standpoint. He is one of the best young minds in football and his stock will continue to rise. But hiring Freeman can also help Notre Dame right now.
Losing Kelly could have cost Notre Dame a spot in the CFP
Earlier in the week, College GameDay's Rece Davis sat down with Gary Barta to talk about the Kelly news. Barta acknowledged that the move could impact Notre Dame's playoff hopes.
"The committee obviously is aware of all the coaching changes while we were going through the rankings," Barta told Davis. "This week, it didn't apply because the games had occurred and we evaluated based on those games. Once the championship games wrap up… our protocol does include the ability for the committee to consider a player or a coach not being available. And should that have an effect on the outcome of the game, that can be considered.
"At this point, we'll have to wait and see how that factors in. But it is one of the criteria that's now added to strength of schedule, to head-on-head competition and winning championships, etc."
Hiring Freeman provides Notre Dame with continuity. If chaos ensues over conference championship weekend, the Fighting Irish could be a huge benefactor. Notre Dame will know its fate on Sunday when the College Football Playoff field is announced.