Former Notre Dame star Kyle Hamilton reveals hilarious tidbit about pre-draft process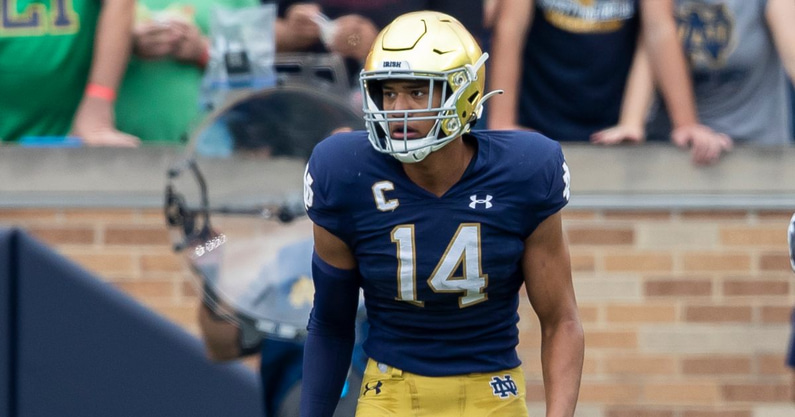 If seven tight ends drafted in the last 10 drafts wasn't enough, Notre Dame is set to have their eighth drafted this time next year when superstar tight end Michael Mayer is expected to turn pro. According to former Irish teammate Kyle Hamilton, if there was one thing he learned from his draft process, it's that NFL teams can't wait to get their hands on him when the time comes.
Mayer, who plays like a wide receiver in Notre Dame's offense, put up 840 yards and seven touchdowns on 71 catches last season, and is expected to be a first round draft choice in the 2023 NFL Draft.
The 6-foot-4, 230-pound tight end out of Covington Catholic (Ky.) High School won the 2019 Gatorade Kentucky Football Player of the Year after hauling in 49 catches for 970 yards and 15 touchdowns, while doubling down, notching 102.5 tackles with four interceptions on the defensive side of the ball as well. Mayer would've had more receptions, but his team enacted a running clock on nearly every opponent they faced en route to two KHSAA state championships.
Mayer earned All-ACC third team as a freshman during the 2020 COVID season at Notre Dame before exploding as one of college football's premier tight ends as a sophomore, and looks to be one of the top NFL Draft prospects after next season.
He'll like to take the same path as his former teammate Hamilton, who was recently selected No. 14 overall pick in the 2022 NFL Draft last month.
After establishing himself as one of the best defensive backs in college football, he was expected to be a top 10 draft selection. Despite his fall to No. 14, Hamilton, who stands at 6-foot-4 with great length, finished his college career with 138 tackles, eight interceptions and 16 pass deflections. He also added 7.5 tackles for loss in 31 appearances for the Fighting Irish and looks to continue that production in the NFL for years to come.
"It is what it is," Hamilton would say after his combine performance. "At the end of the day, we're playing football."
If his numbers are anything to go by, Hamilton's combine results won't play a factor into his performance on the field, and now has more resources than ever to get him where he needs to be in terms of strength and speed.