What it would take for Sam Hartman to win the Heisman Trophy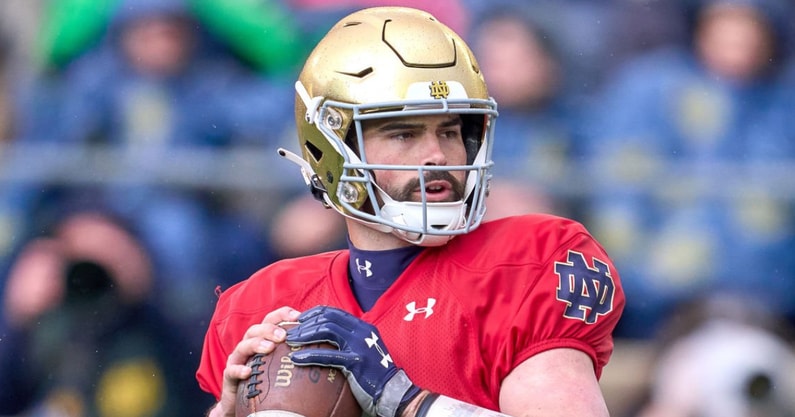 Notre Dame QB Sam Hartman brought a lot of intrigue to South Bend this offseason with his decision to transfer in and become a member of the Fighting Irish. Even so, what would the grad student need to have happen as the program's new QB1 to get himself into one of the sport's biggest conversations?
On3's JD PicKell says it'll be development at wide receiver. In a recent episode of 'The Hard Count', he said a big play receiver needs to show himself in order for Hartman to have a Heisman-level season. That should give them just enough of another gear offensively where PicKell believes that that could be a game-changer for him and Notre Dame.
"Here's the most crucial ingredient to me: A big play wide receiver needs to step up for Notre Dame," PicKell stated. "We saw a version of it in the spring game now. Jaden Greathouse? If you're a Fighting Irish fan, you saw that spring game and you said, 'Oh boy. That's a true freshman?'. But (the) dude can play some ball now. It might be Jaden Greathouse, it might be someone else."
"The bottom line is they're going to play really complimentary football. They're going to play good defense. I also think they're going to run the football really well," said PicKell. "When you run the football well and you stop the other team from scoring? You then have the opportunity to create explosive plays. Because the other teams starts pressing offensively, they kind of get down on themselves, you get the ball back. And, then, once you start running the ball? And they start getting antsy on defense and try to create something defensively to create some momentum? Maybe dial up a blitz when they shouldn't? Then you hit the deep pass, then you hit the explosive plays. That only happens if you have someone that can separate at the wide receiver position."
Hartman has been around the block following his five years with Wake Forest. He threw for nearly 13,000 passing yards with the Demon Deacons along with an ACC record of 110 touchdowns. Now, after posting all kinds of new marks in that conference and that program in Winston-Salem, Hartman is on to new horizons with the Irish.
Still, to PicKell, his Heisman case is also going to require the usual 'Heisman moments'. With several big games on Notre Dame's schedule, PicKell says those could end up as make-or-break opportunities for his chances at the trophy.
"The other part of this is you and I both know that the Heisman Trophy? It's given to the best player in college football. Yes, we get that. But there's also a component of this that's branding. And the phrase 'Heisman moments' gets thrown out there a lot," PicKell said. "Sam Hartman has some big stages, three of them to be exact from where I'm sitting looking at this schedule. And I need big games on those stages. Three touchdown, four touchdown performances for everybody to see. We also have to win some games."
It usually takes a lot of things to go right in order for a player to win the Heisman Trophy. It doesn't take just one phenomenal aspect of a campaign to earn your way into one of sport's most prestigious clubs. With that in mind, PicKell has laid out the path for Hartman to be in New York at the end of the season. Whether or not he'll be hoisting that bronze up, though, is an entirely different story that we'll have to wait and see unfold.