Jeff Hafley stresses importance of defending Michael Mayer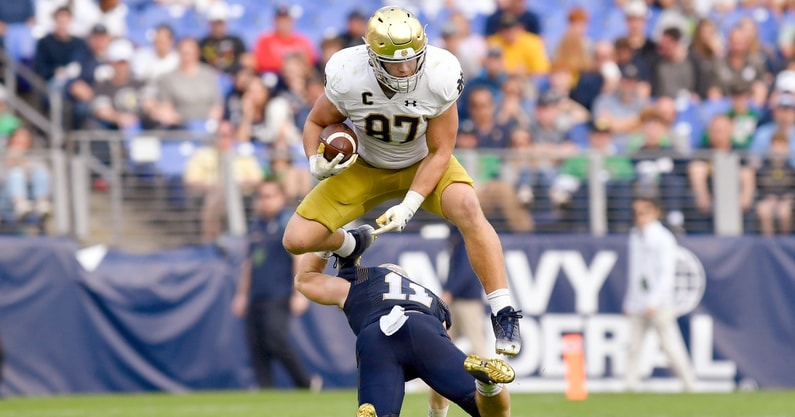 In a disappointing season for Boston College, head coach Jeff Hafley needs to find positive momentum to end the year. Beating Notre Dame would go a long way for his team's confidence, as well as the fanbase's confidence in him. However, the Irish have a few weapons that are going to be incredibly difficult for Boston College to match up with.
Tight end Michael Mayer is among those difficult matchups. Finding a way to stop him is going to be a top priority for Jeff Hafley and the Boston College defense.
"A lot of the pass game is gonna go through him, especially on some down and distances," Jeff Hafley said. "You better know where he is and you better have a guy on him, sometimes two."
CLICK HERE to subscribe for FREE to the On3 YouTube channel
"He's a game changer. The thing about him is he's a good blocker too, which is what the NFL will love. He can run routes, he's big, he catches the ball, he's got a huge catch radius, he's got really good run after the catch. I mean, I remember his first year, two years ago when we played here, he caught a crosser–I mean he was jumping over people."
Michael Mayer was a freshman the last time he played Boston College, during the 2020 season. By his standards, it was a quiet day for the tight end. However, he clearly made an impression on the Boston College head coach.
"So, you better know where he is and you better have a plan for him because he's a great player," Jeff Hafley finished.
Jeff Hafley on Marcus Freeman
Michael Mayer wasn't the only one who Jeff Hafley praised. He also took the time to praise Notre Dame's head coach, Marcus Freeman. In particular, Hafley praised how Freeman was able to bounce back following a slow start.
"Marcus has done a really good job with the slow start, some ups and downs, of pushing through it, persevering and winning some big games like the Clemson game and then battling last week against Navy, who's a tough team," Jeff Hafley said.
"He's done a really nice job."