Jim Phillips discusses role of Notre Dame in ACC's College Football Playoff expansion stance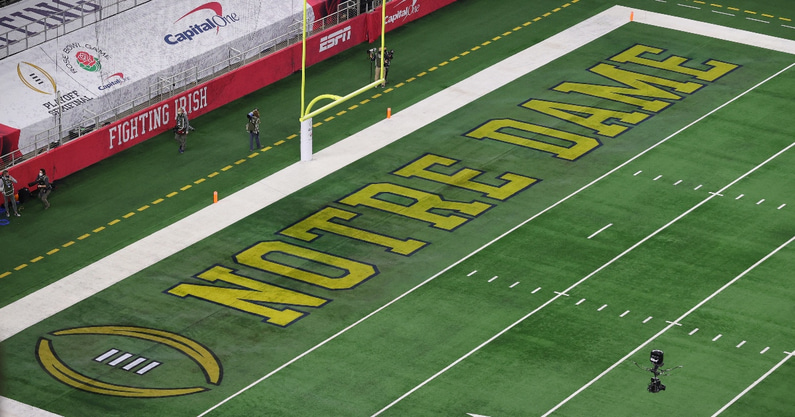 As College Football Playoff expansion talks made their way back into the news on Friday, a familiar topic came up.
ACC commissioner Jim Phillips hosted a conference call with the media ahead of the first weekend of the college football offseason, and he made it clear the conference wants to halt talks for now. When pressed on the reason why, he was asked about the role of a certain team when it comes to the ACC's change of heart.
"Absolutely, positively not true," Phillips said when asked if the ACC has decided not to pursue expansion at this time as a result of wanting to add Notre Dame to the conference as a full-time member. "One is not tied to the other, despite what others might speculate."
For nearly a decade now, Notre Dame has been a full-time member of the ACC in all sports except football and ice hockey. The football team remains independent, but they play five games against ACC competition every season. As a result of maintaining their independence, they are ineligible for the ACC Championship Game (2020 COVID-19 season aside).
It's evident why the ACC would love to have Notre Dame as a full-time member. The Irish are one of college football's biggest brands, they have a national following, and they have their own television deal with NBC. According to a graphic from Fox from December 2021, Notre Dame is the 8th most valuable college football team in the country, worth $120 million. There are two ACC teams currently in the top 25, as Florida State comes in at No. 14, and Clemson comes in at No. 25.
Phillips has fielded numerous Notre Dame questions in his brief tenure leading the ACC, as many believe one his top goals should be to convince the independent giant to join a conference in football. For now, the Irish are holding steady.
Phillips, ACC back away from expansion talks
While Notre Dame came up, the Friday call had a broader purpose of explaining that the ACC would walk back it's previous support for expansion to eight teams.
"The membership of the ACC is very much aligned in its position that now is not the right time to expand the College Football Playoff," Phillips said, per Andrea Adelson of ESPN. "We have significant concerns surrounding a proposed expansion model."
On the call, Phillips cited massive changes across college athletics as the reason the ACC has "unanimously" decided against changing the playoff format for now. Examples include name, image and likeness issues, the NCAA v. Alston Supreme Court ruling, NCAA governance and concerns around playing too many games.
Any expansion vote must be unanimous, so if the ACC won't come to the table at this time, everything is now on hold.