Joel Klatt assesses possibility of Notre Dame joining Big Ten, difficulty of being independent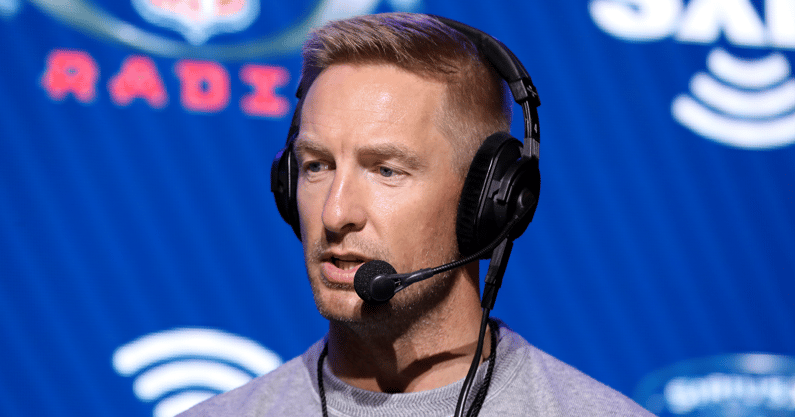 With the recent moves of USC and UCLA to the Big Ten, many are beginning to wonder whether Notre Dame could be next. The Fighting Irish have been a football independent since their beginning and take pride in that tradition.
According to a report from Sports Illustrated, Notre Dame's "independence remains the preference and the leader in the clubhouse." However, FOX Sports analyst Joel Klatt explained recently that refusing to join a conference could potentially cost the school a lot of money.
"There's only six or seven games that you're selling as an independent," Klatt said on the Colin Cowherd Podcast. "You've got to find the revenue out of your road games. Let's just (compare) Ohio State and Notre Dame. Ohio State is essentially in the Big Ten selling both their home games and their away games. They're maximizing their brand regardless of where they're playing. Notre Dame doesn't do that. Notre Dame is maximizing their brand in their home games because those are the ones that they own. But they have to have some sort of other arrangement for grant of rights for their road games in order to supplement the rest of the revenue that a team like Ohio State would get from their conference. The tradeoff is that Ohio State then has to go and share evenly among the other schools in their conference."
Notre Dame already competes in the Big Ten in ice hockey, but is affiliated with the ACC in all other sports except football. Klatt went on to explain that there is a path for the Irish to stay independent at least in the short term. However, in order to make it possible he believes they would have to end their partnership with the ACC.
"I believe that if it is getting to a point where Notre Dame is sitting there and thinking to themselves, 'We are leaving money on the table by being associated with the ACC in our loose affiliation with them,' (there are) potentially two other options," Klatt said. "I do believe that they can stay independent. Maybe not for a long time, but at least for the near term. As long as they were able to leave the ACC scheduling partnership that they have, basically leave the ACC and join the Big Ten in every other sport but football and get the loose scheduling agreement with the Big Ten. I believe they would garner enough revenue at that point where they could stay independent. There will become a time where that will be moot and they're gonna have to fold themselves into the Big Ten. There is an air of inevitability that Notre Dame will at some point be a Big Ten member. I just don't know if that's in the next three years, five years or 10 years."
It all depends on how long it takes for these conferences to sort themselves out. What the remaining Pac-12 teams do will play a big factor, with a recent report indicating at least some could join the Big 12. As conference commissioners failed to come to a resolution on a College Football Playoff format last year, the race to stockpile blue-blood programs together seems to be heating up, with some believing super conferences are on the horizon.
If that ends up being the case, it could be time for Notre Dame to leave its status as an independent behind.