4-star QB Kenny Minchey commits to Notre Dame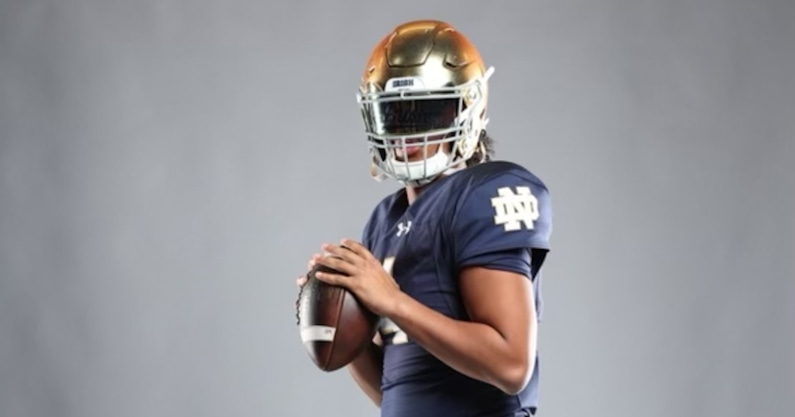 Hendersonville (Tenn.) Pope John Paul II four-star quarterback Kenny Minchey didn't really have much interest in talking with Notre Dame when the Fighting Irish offered him late in the summer. He was committed to Pitt and locked in on his commitment.
But his parents pushed him to respond to their texts and their calls. Whenever he'd get a message from offensive coordinator Tommy Rees, he would tell his parents.
It got to the point about two weeks ago that Minchey and his parents sat down to have a discussion. Minchey decommitted from Pitt eight days ago. He took an official visit to Notre Dame this weekend.
And now he has announced his commitment to the Fighting Irish.
"I feel like Coach Rees trusts in me, my ability and what I can do," Minchey told On3. "I feel like Coach Freeman does as well."
Minchey, the No. 204 recruit and No. 17 quarterback in the recently updated 2023 On300, joins a Notre Dame recruiting class ranked third in the country.
But for all its elite recruits, the class was missing a quarterback. Minchey fills that hole.
Relationship with Marcus Freeman played a big role for Kenny Minchey
Minchey said before he left for his official visit this past weekend to Notre Dame that he thought he was going to commit to the school. But he wanted to check every box and make sure he didn't rush into it without meeting the coaches in person, including head coach Marcus Freeman.
"I've heard only great things about him and the kind of person he is, and this weekend backs it up," Minchey said.
Minchey described Freeman as a caring coach, and that is something Minchey thinks will build trust between him and the entire staff.
The coaching staff is a main reason for his commitment to the school, along with the academic prestige of Notre Dame and the elite recruiting class he is joining. Minchey said he is excited to work with Rees.
"I was able to ask a few of the players, including one of the quarterbacks, what kind of coach is Coach Rees?" Minchey said. "Do you feel like he's developing you making you better? They gave me positive answers and they gave me like truthful answers."
Minchey said he is locked in with his commitment to the Fighting Irish and excited to get on campus.
"This is where me and my family decided that I'm going to be," Minchey said. "I feel like it's going to set me up to be the best version of myself."