John Harbaugh on how Kyle Hamilton will fit into Ravens crowded secondary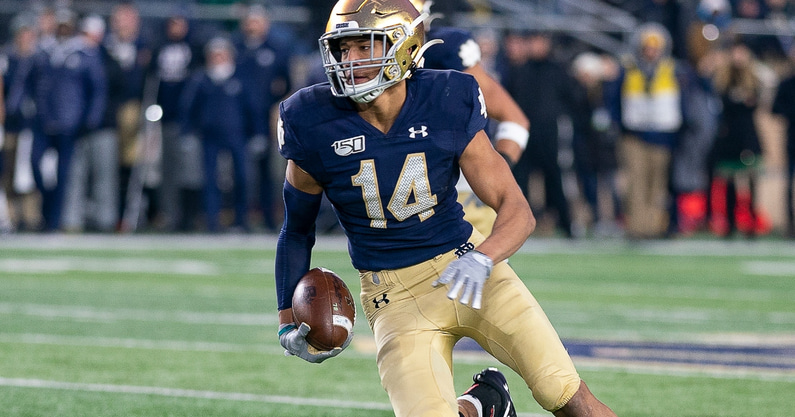 Kyle Hamilton was considered a potential top five pick in the 2022 NFL Draft by respected analysts like Bucky Brooks, yet when the Baltimore Ravens were on the board at No. 14 in the first round last week, John Harbuagh and company couldn't resist despite having other glaring needs and a talented core of defensive backs in place.
The former Notre Dame star recently joined his new NFL head coach in an introductory press conference and a reporter asked the question many pundits have wondered since the selection was made. On a roster loaded with talent in the secondary and at safety, has the Ravens' front man thought about how Hamilton will be used? 
"Yes, quite a bit," Habaugh responded. "Because we do, we have good players, we have Chuck Clark. Chuck has been with us for a long time, he's one of our best players on defense, he wore the green dot, he's a leader he's the play-caller.
"I know Kyle is excited to work with Chuck and learn from him and then we have Marcus Williams, one of the best safeties in football. He's got a unique style and Kyle will learn from him too, and they will play off one another and feed off each other." 
RELATED: John Harbaugh shares incredible story about Kyle Hamilton's pre-draft visit
Harbuagh then named a few other core members of the current Ravens' secondary and continued to hone in on the word "versatility." 
"It creates some flexibility and versatility for Brandon Stevens, so he can continue to play safety, he can play nickel, he can maybe play some corner as well.," Harbaugh said of the addition of Hamilton. "Then we got young guys like Geno who brings something different to the table, and let's not forget about Tony Jefferson. Tony has unique abilities too soand all of those guys are really versatile players." 
John Harbaugh shares unique insight into plan for Kyle Hamilton, secondary as a whole
Harbaugh then alluded to a conversation he had with Kyle Hamilton moments before the press conference began. The defensive-minded NFL coach revealed the plan is essentially for all the safeties and other defensive backs to be ready to play multiple positions when called. 
"We talked about it just now," the Ravens coach said specifically about Hamilton's role as the former Notre Dame safety sat to his right." We talked about playing free safety, strong safety, dime, nickel and every once in a while you're going to find yourself in the mike position by alignment and matchups, so all of those guys will be playing in all of those spots, and that's exactly what we want." 
That is a great behind-the-scenes look into the Baltimore Ravens' plans for defense ahead of the 2022 campaign. Harbaugh has been the mastermind behind some of the league's top defenses since taking over as the head coach more than a decade ago in 2008. He revealed how his defense — a unit that consistently ranks near the top of the league and has produced playmakers like Ed Reed, Ray Lewis , Terrell Suggs and an endless list of high-caliber players — will approach the 2022 campaign now with Kyle Hamilton on board.
While the pick may have raised eyebrows, the Ravens shockingly finished dead last at No. 32 in passing defense in 2021 and 18th in defense overall. The personnel is there, and with the addition of Hamilton, the entire unit should get a major boost.