Las Vegas releases Notre Dame win total odds, set at 9.5 for 2022 season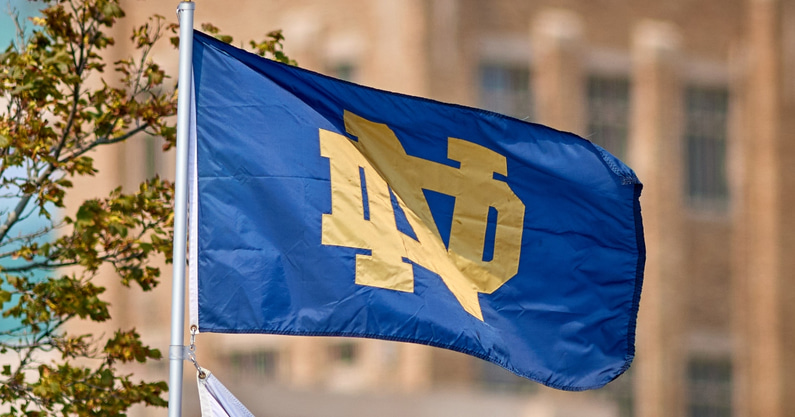 Notre Dame is going through a transformative time, as Marcus Freeman enters his first season as the unquestioned leader of the Fighting Irish. Taking over for Brian Kelly — who had immense success with the program — the bar is high for the former Cincinnati and Notre Dame defensive coordinator.
According to Las Vegas, the Fighting Irish will be a force in 2022 — their over/under win total is being set at 9.5 for Freeman's first season in charge.
Moreover, the Fighting Irish have reached the double-digit win mark in six of the last seven seasons. The lone outlier was a demoralizing 2016 season, where Kelly's program went 4-8 on the year. However, it's been a string of success since, including multiple appearances in the College Football Playoff.
While Freeman got his first taste of leading the Fighting Irish in last season's Fiesta Bowl, his first real test will be one of college football's behemoths, as Notre Dame faces Ohio State to begin their season. Earlier, Freeman spoke about how his guys aren't shying away from the opportunity.
"What a great opportunity for our football program to go and, really, it's going to be an opportunity to see how good you really are," Freeman said. "To play an extremely talented opponent, one of the best in the country, there's nothing better a competitor wants [than] to go play the best."
A lot of eyes will be on how Marcus Freeman leads Notre Dame in 2022. If he can continue their string of double-digit win seasons, the Fighting Irish will know they made the right decision in promoting him.
Ohio State, Notre Dame set for premier slot on ABC, College GameDay
Ohio State and Notre Dame will have a ton of eyeballs for their 2022 season-opening matchup in Columbus on Sept. 3. The two teams just announced that they got the 7:30 p.m. slot on ABC for the Saturday game and College GameDay will host from the Ohio State campus.
The Ohio State Buckeyes, led by Ryan Day, went 11-2 overall in the 2021 season. They get to open the season at home with a night game for the first time since 2010 versus Marshall. College GameDay's presence will only add to the hype around the game that features two of the top programs in the nation. The show has gone live from Columbus 21 times in the history of the broadcast.
On top of Ohio State-Notre Dame, the opening Saturday of the season has several key matchups like Alabama-Texas, Oregon-Georgia, Arkansas-Cincinnati, Utah-Florida and more.