Micah Shrewsberry aiming to prove everyone wrong in Year 1 at Notre Dame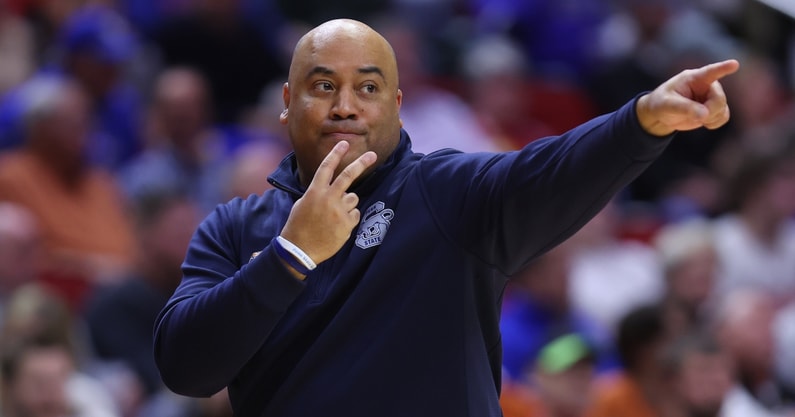 It's been over two months since Micah Shrewsberry accepted the head coaching position for the Notre Dame Fighting Irish men's basketball team. Given his connection with the state of Indiana, it is like a dream come true for him to be coaching one of the more prestigious programs in the state and in the country. Having said that, Shrewsberry is aware of the expectations levied on him to keep the Fighting Irish competitive on the basketball court. However, there are quite a few that don't expect anything out of Shrewsberry's squad in year one. But the new Notre Dame headman is aiming to prove the doubters wrong on that front.
"I think in year one, for us, we want to set the culture of who we're going to be as a program. And we may be a younger team this year, but that doesn't mean we're not going to compete," said Shrewsberry. "It doesn't mean we're not going to play hard; it doesn't mean we're not going to be a fun team to watch. There could be growing pains with us. But we want to be a group that gets better from when we get together in June all the way through the end of our season. So setting the culture is number one.
"I think we'll be a little bit tougher, a little bit more gritty defensively, while playing a fun style offensively. So getting that established, knowing who we are, and then going out and competing every single night. I think having that underdog mentality is gonna be really important for us. Because there's gonna be a lot of people that don't think gonna be very good; I can tell you that right now."
It's not just members of the media and professional naysayers Shrewsberry has on his list of people to prove wrong. No. There are actually a hand full of players, too — players that turned him down on the recruiting trail and didn't believe in his year one vision for Notre Dame.
"There are people that we've recruited that have gone to other places that don't think that we're going to be very good. So I'm just out to prove everybody wrong in this first year. And show them how tough and how talented our team can be."
Shrewsberry was Penn State's head coach from 2021-2023. During his two years with the Nittany Lions, he recorded 37 wins and 31 losses. Shrewsberry had Penn State on an upward trend, going from a 14-17 record in his first year to a 23-14 record in its second year, and complementing their regular season success with a berth in the Men's NCAA Men's Tournament. Ultimately Penn State would go 1-1 in the tournament, winning their first game against Texas A&M but losing to the Texas Longhorns in the round of 32.