JD PicKell sets expectations for Notre Dame in 2023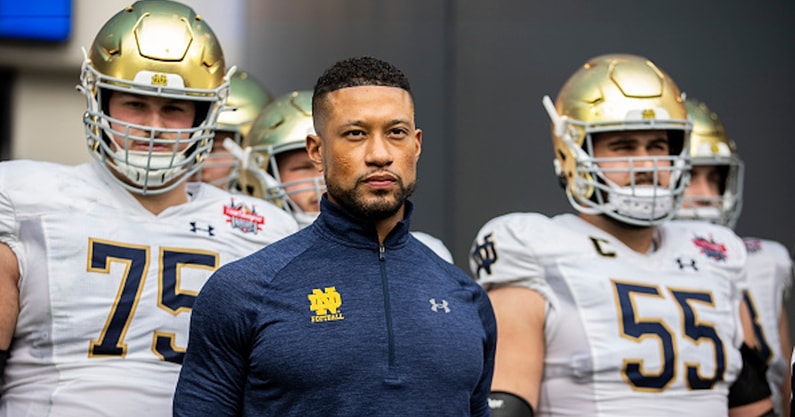 Notre Dame has high expectations for the 2023 season, according to On3 host J.D. PicKell.
With the addition of Wake Forest transfer Sam Hartman, Notre Dame has a veteran quarterback and can only go higher. Marcus Freeman won nine games in his first season as head coach.
But with that and more coming back for Notre Dame, PicKell broke down the expectations for the Fighting Irish on The Hard Count.
"The expectations in South Bend, anytime you wear the golden dome, it's high," PicKell said. "Like it's high expectations, the bar is always set high for the good folks at Notre Dame, and it should be one of the most recognizable brands in all of sports, not just college football. I truly believe that. So, last year for Marcus Freeman I think it was a success. I mean, we said before they even started, if the world falls apart, I think Notre Dame can win eight games. They won nine. 
"Okay, and it felt like at times the world fell apart (like against Marshall). Tyler Buchner goes down early in the season. There was a lot working against you. All you did was collect yourself after an 0-2 start, won nine games. Oh, by the way, Marcus Freeman currently has a top 10 recruiting class at the time of recording this. So Notre Dame is starting to get some momentum."
Notre Dame's potential in 2023
Notre Dame had playoff aspirations and expectations prior to the 2022 season but got off to a rough start. With a guy like Hartman presumably under center next fall, reaching the final four is more realistic.
"But this year, in 2023, the expectation will be alright, next step," PicKell said. "Let's take the next step as a program. There's no conference to win obviously. So let's make the College Football Playoff. That's what we do here. Last year, whether Brian Kelly was there or not, probably would have been right around what they accomplished. This next year we'll be okay. 
"We have the quarterback. We've got the right guys returning. Let's go win something man. Let's go get it done. So I'm fired up to watch Notre Dame. I think they're one of the sneakiest teams in all college football. We're going to talk a lot about them going forward."
CLICK HERE to subscribe for FREE to the On3 YouTube channel
Hartman finished his Wake Forest career with 12,967 yards, 110 touchdowns, 41 interceptions and a 59.1% completion percentage.