Notre Dame Football announces kickoff times, TV designations for 2023 home games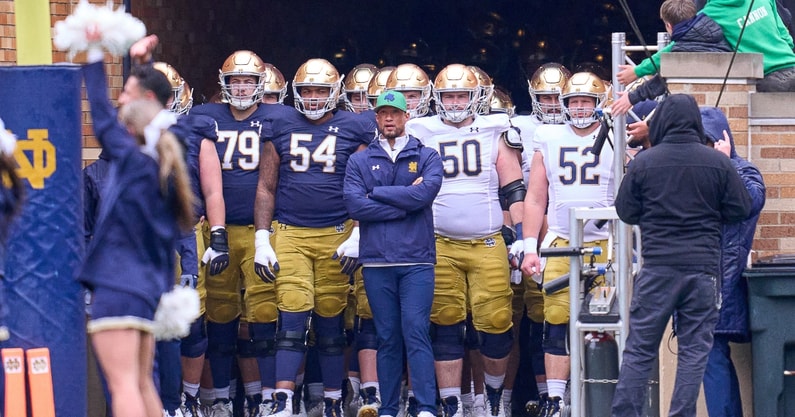 Notre Dame has released game times for all of its home matchups for the 2023 season, including showdowns against Ohio State and USC.
The Irish will open their home slate on Sept. 2 against Tennessee State. That game will kick off at 3:30 p.m. and be shown on NBC and Peacock.
On Sept. 16, Notre Dame will host Central Michigan in its second home game of the season. That matchup will only be shown on Peacock and will begin at 2:30 p.m.
The home slate really gets going on Sept. 23 when the Irish host Ohio State in what should be a big-time showdown with potentially College Football Playoff ramifications. That game will be shown on NBC and Peacock and will kick off at 7:30 p.m.
After facing the Buckeyes, Notre Dame stays away from home for a bit, before returning to host USC on Oct. 14. That game will also be shown on NBC and Peacock and will also kick off at 7:30 p.m.
The Irish close out their home slate with a pair of ACC matchups.
Notre Dame will host Pitt on Oct. 28 at 3:30 p.m., before hosting Wake Forest on Nov. 18 at 3:30 p.m. Both of those games will be shown on NBC and Peacock.
The matchup with Wake Forest is particularly intriguing as Irish quarterback Sam Hartman will be facing off against his former team. The former Demon Deacons star was a finalist for the Manning Award this past season after passing for 3,701 yards and 38 touchdowns.
Hartman transferred to Notre Dame this offseason and will look to have a memorable final year of college football.
Notre Dame 2023 football schedule
Aug. 26, vs. Navy (Dublin, Ireland), TBA
Sept. 2, vs. Tennessee State, 3:30 p.m.
Sept. 9, at NC State, TBA
Sept. 16, vs. Central Michigan, 2:30 p.m.
Sept. 23, vs. Ohio State, 7:30 p.m.
Sept. 30, at Duke, TBA
Oct. 7, at Louisville, TBA
Oct. 14, vs. Southern California, 7:30 p.m.
Oct. 21, Bye week
Oct. 28, vs. Pitt, 3:30 p.m.
Nov. 4, at Clemson, TBA
Nov. 11, Bye week
Nov. 18 vs. Wake Forest, 3:30 p.m.
Nov. 25, at Stanford, TBA
What it would take for Sam Hartman to win Heisman Trophy
Speaking of Hartman, what would the grad student need to have happen as the Notre Dame new QB1 to get himself into one of the sport's biggest conversations?
On3's JD PicKell says it'll be development at wide receiver. In a recent episode of 'The Hard Count', he said a big play receiver needs to show himself in order for Hartman to have a Heisman-level season. That should give them just enough of another gear offensively where PicKell believes that that could be a game-changer for him and Notre Dame.
"Here's the most crucial ingredient to me: A big play wide receiver needs to step up for Notre Dame," PicKell stated. "We saw a version of it in the spring game now. Jaden Greathouse? If you're a Fighting Irish fan, you saw that spring game and you said, 'Oh boy. That's a true freshman?'. But (the) dude can play some ball now. It might be Jaden Greathouse, it might be someone else."