Marcus Freeman explains how Notre Dame can capitalize on NIL in recruiting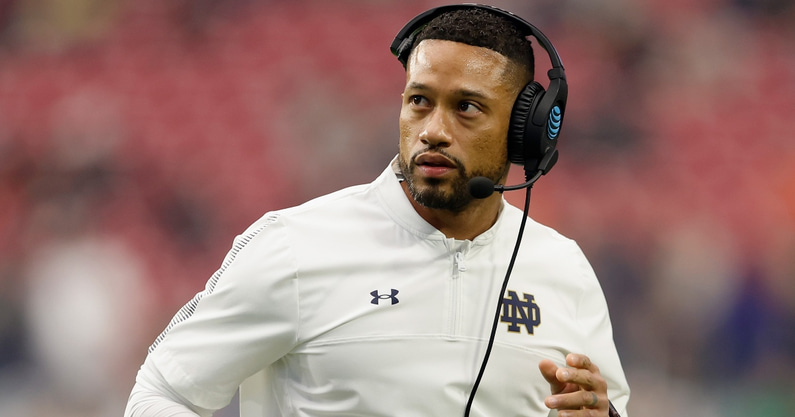 Notre Dame head coach Marcus Freeman made an appearance on the ESPN morning show Get Up, where he was asked he was selling to his recruits in regards to NIL.
"I think you look at Notre Dame and the big brand of Notre Dame, and some of the biggest brands in the country, biggest brands in the world are associated with this program and with this university and so name, image, and likeness can be maximized at Notre Dame bigger than most places and so we believe that it's a great opportunity to capitalize at Notre Dame but also we believe in what the education and spending time in South Bend will do for you in your future," Freeman said.
Notre Dame is clearly maximizing their opportunities as they currently have the number two rated recruiting class of 2023 according to On3's 2023 Consensus Football Team Recruiting Rankings, and a recent viral uniform reveal video. But the Freeman and the Irish's main focus is their week one, primetime matchup versus Ohio State September 3.
Marcus Freeman opens up about the future of college football, NIL cap idea
First-year Notre Dame head coach Marcus Freeman joined ESPN's Get Up live on the set on Thursday morning and addressed the concerns many coaches have brought up about the direction and future of college football.
Unlike coaches with some tenure like Nick Saban, Freeman isn't quite as opinionated.
"I'm not concerned," Freeman said. "I believe that the higher-ups will continue to make sure that we do the right things for student-athletes. It can kind of go all over the place right now but my job is to focus on, ok, within the rules, what can we at Notre Dame do to maximize opportunities for our players."
This week, Lane Kiffin made headlines when he proposed a cap on NIL to establish some uniformity across the NCAA. While the Fighting Irish's new skipper believes some rules and restrictions would benefit student-athletes, he's still getting a handle on his new gig – not trying to make waves.
"At some point, the ability to make rules and restrictions that are put in place to really help student-athletes and your program to not get out of control, that's really important," Freeman said. "I'm not too overly opinionated on it. I've been doing this head coach thing for maybe 7-8 months, so I'm really focused on getting this team prepared. Guys like Lane Kiffin and Nick Saban who've been doing it for so long, I'm sure they have a strong opinion about it."
On3's Nikki Chavanelle contributed to this report