Notre Dame lands a commitment from On300 EDGE Loghan Thomas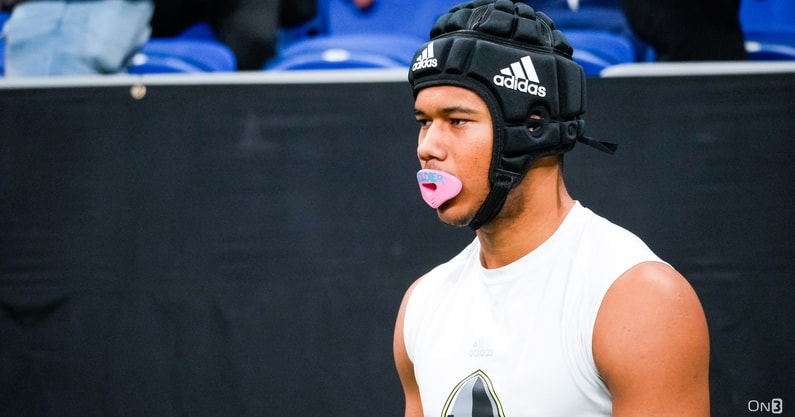 A decision is in for On300 EDGE Loghan Thomas.
Thomas, the No. 101 player in the nation for 2024 and an absolute terror along the defensive line at Katy (Texas) Paetow just outside of Houston, committed to Marcus Freeman and the Notre Dame Fighting Irish.
Texas Tech, SMU and Kansas were early contenders for Thomas before the Irish entered the picture at the top of the calendar year. Notre Dame, along with Oklahoma, Texas A&M and Georgia, all extended offers to the On300 EDGE and received unofficial visits.
Thomas' last visit to South Bend came on May 19, he realized where he wanted to play on Saturdays.
"From a football standpoint, I love the way I fit into their defense," Thomas told On3. "I have a great relationship with the coaching and obviously, with Coach Freeman being a defensive-minded coach, there was no doubt in my mind."
Notre Dame checks two critical boxes for Thomas
After securing an offer from the Irish, Thomas wasted no time making his way over to campus.
He connected with Freeman and a host of different coaches and also realized his potential both on the field and in the classroom.
"From a school and academic standpoint, I feel like I'm going to be able to get challenged in the classroom and come out with a great degree," Thomas said. "Also, there is just a great vibe in the air at all times up there where everyone gets along with everyone."
"Notre Dame is a great school for education, but they also compete at a high level in football and I like that," Thomas told On3 in March. ""It's a big defensive staff and I like the way they talk and the way their defense plays."
Thomas was the On3 MVP of the AAB Combine
Thomas followed a breakout junior campaign at Paetow under first-year coach and former DL David Hicks with On3 MVP honors at the annual All-American Bowl Combine in San Antonio in January.
Here's what we wrote about Thomas after a strong showing in the event:
"On300 EDGE Loghan Thomas is next up for Katy (Texas) Paetow, which just graduated two of the nation's best defenders at their respective positions in David Hicks Jr. and Daymion Sanford. Thomas arrived in San Antonio at a swollen 6-foot-4 and 215 pounds, and it showed with an explosive first step and consistent wins against an array of tackles in the Dome. Thomas was quick around the edge and also showed he could win going inside as well. Thomas clocked a 4.7-secnd 40 time and also registered a 42-inch vertical. He's a superb athlete flying off the edge."
On3 is higher on Thomas than the rest of the recruiting industry.