Notre Dame offers 2025 WR Jerome Bettis Jr., son of Irish legend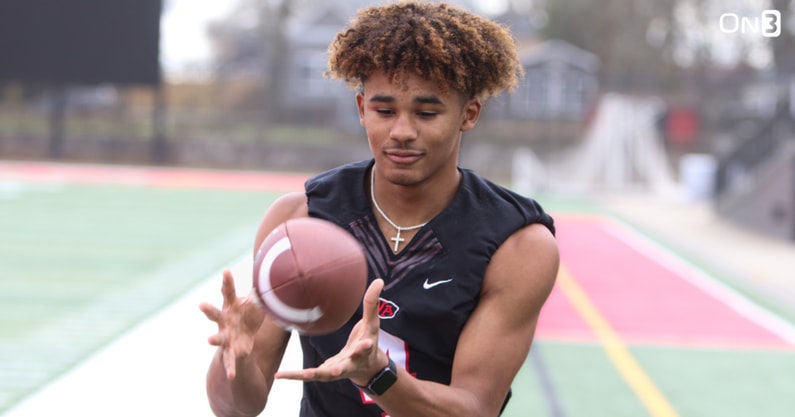 A little over 30 years ago, Notre Dame had pretty good luck recruiting a prospect by the name of Jerome Bettis. Three decades later, the Fighting Irish are hoping for similar success. And on Friday, Marcus Freeman and Co. extended an offer to Jerome Bettis Jr., a rising 2025 wide receiver prospect.
The younger Bettis announced the offer on Twitter.
"All Glory to God! Blessed to receive an offer from my father's alma mater, The University of Notre Dame!" Bettis Jr. wrote with a picture of his dad in a Notre Dame uniform attached.
The Irish join Arkansas, Missouri, Boston College, Marshall and UAB and more as programs who have extended an offer to Bettis Jr. thus far. But this one is particularly special for him.
"It's a great school, a great place, it's cold but I love it," Bettis told On3 in February. "I had a great time the couple of times I've been down there. It was a great experience. They're great people."
The two sides were just getting started building a relationship at that point. Bettis has been on campus a few times and plans on making his way back this spring.
Bettis is intrigued by the opportunity to get to know Notre Dame through his own lens, he told On3's Jeremy Johnson. The Fighting Irish's coaching staff has already made it clear that they're not after Bettis' name. They want to get to know him his own individual recruit.
"One of the first things they wanted me to know is that they wanted to build a genuine connection with me and not necessarily build off my father," Bettis Jr. said. "It was really just about the importance of building my own legacy. That's important to me. They made sure that I could do that there and not be in my father's shadow and take my own path."
Oregon and Alabama are among the other programs communicating with Bettis Jr., who is just finishing his junior year this spring.
Jerome Bettis Sr. recently graduated from Notre Dame
Nearly three decades after he left Notre Dame for the NFL in the early 1990s, Jerome Bettis Sr. made his way back to South Bend for another special occasion last spring: his college graduation.
Bettis Sr. donned a cap and gown and walked across the stage with thousands of other Notre Dame students, though the man known as "The Bus" might've stood out a little more than most.
During his time in the NFL, Bettis was one top ball carriers in the entire league. He accumulated 13,664 rushing yards and 91 rushing touchdowns over his career, while adding 1,457 receiving yards and three receiving touchdowns on 200 receptions, as well.
He was also named to the Pro Bowl six times, was twice an All-Pro selection and earned the 2001 Walter Payton Man of the Year award for community service.