Report: Notre Dame target for defensive coordinator sticking with current program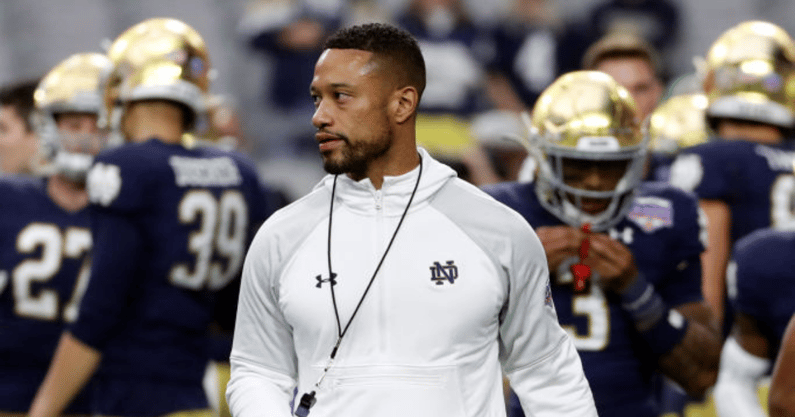 The search for Notre Dame's new defensive coordinator will continue. Jon Heacock, considered a top target for the job, will stay with Iowa State for a raise, according to FootballScoop.
No details regarding a raise are public at this point but it sounds like Heacock will continue to coach for the Cyclones. Notre Dame head coach Marcus Freeman has made other hires but is still looking for a replacement for his own former position on the staff. Heacock was reportedly in South Bend on Tuesday.
Jon Heacock has spent the past six seasons with Matt Campbell at Iowa State. He earned a nomination for the Broyles Award in 2017. He's also coached at Toledo, Purdue, Kent State and Youngstown State.
Freeman targets Big-12 wideouts coach
As Notre Dame's staff starts to come together, the Fighting Irish have their sights set on their new wide receivers coach.
Marcus Freeman is expected to hire Baylor wide receivers coach Chansi Stuckey for the same role at Notre Dame, On3's Matt Zenitz confirmed. The Athletic's Pete Sampson first reported the move. Stuckey just wrapped up his second season with the Bears.
Earlier Wednesday, Blue and Gold reported Stuckey was on Notre Dame's campus for an interview. The Fighting Irish also interviewed Purdue co-offensive coordinator and wide receivers coach JaMarcus Shephard, according to BGI.
Stuckey was a two-time All-ACC wide receiver at Clemson and went to the New York Jets in the 2007 NFL Draft. He played in the league from 2007-11 for the Jets, Cleveland Browns and Arizona Cardinals.
Irish nearing reunion with former offensive line coach
Marcus Freeman's first staff at Notre Dame is coming together. He's reportedly close to bringing back a former Fighting Irish offensive line coach.
Harry Hiestand, who worked at Notre Dame from 2012-17, is close to a return to South Bend, according to Yahoo Sports' Pete Thamel. Hiestand worked for the Chicago Bears from 2018-19 after leaving the Fighting Irish and hasn't coached since.
While at Notre Dame, Hiestand helped develop multiple NFL draft picks, including Quenton Nelson, Mike McGlinchey, Zack Martin and Ronnie Staley. He has more than 30 years of college coaching experience, getting his start with Penn in 1986. Hiestand also worked at Cincinnati, Missouri, Illinois and Tennessee.
Hiestand will take over for Jeff Quinn, who replaced him in 2018. Quinn was let go this offseason.
It's another high-profile hire for Freeman's first staff at Notre Dame. The Fighting Irish recently landed Brian Mason as special teams coordinator after he spent four years at Cincinnati. One of Freeman's former teammates, James Laurinaitis, is also heading to South Bend to join his good friend.
The Fighting Irish went 11-2 this season and lost to Oklahoma State in the Fiesta Bowl on New Year's Day.
On3's Nick Schultz contributed to this report.