WATCH: Jack Coan suffered injury prior to game-winning touchdown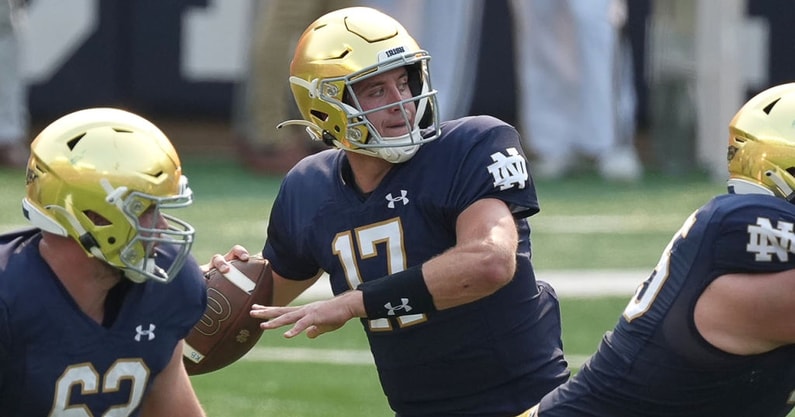 Notre Dame quarterback Jack Coan showed his toughness Saturday after dislocating his finger and throwing the game-winning touchdown the next play. In the second straight fourth quarter scare Notre Dame has had to start their season, Coan's touchdown gave them the lead over Toledo with one minute remaining.
Jack Coan's touchdown after finger injury
Following an opening week thriller against Florida State, Coan again delivered late game heroics to give Notre Dame the win as time was running out.
After Toledo took a 29-24 lead in South Bend, the Irish stormed down the field on a three-play, 75-yard scoring drive that took just 26 seconds. The Irish took back the lead on an 18-yard catch by tight end Michael Mayer. It was ultimately the game-winning score.
Coan finished the day 21-for-33 with 239 yards, two touchdowns and an interception. True freshman quarterback Tyler Buchner shared snaps with Coan and provided the Irish with a second-half spark. He was 3-for-3 with 78 yards and a score through the air plus seven carries for 68 yards on the ground.
Despite head coach Brian Kelly going to Buchner in the second half, Coan is who Kelly called upon to close the game out. His performances to open the season have given Notre Dame a 2-0 record as a top ten ranked team in the nation.
Kelly high on Coan
Jack Coan's first start at quarterback for Notre Dame was a record-setter. He threw for 366 yards — the most in an initial start in school history — as the ninth-ranked Fighting Irish held on for a 41-38 overtime victory over Florida State.
When Kelly had a chance to analyze Notre Dame's thrilling victory over Florida State, he was even more impressed with quarterback Jack Coan.
In a press conference during the week, Kelly gave his quarterback high marks for his performance..
"I think what was impressive, obviously he pushed the ball down the field. I loved his demeanor on the sideline, great communicator," said Kelly. "Got the kind of information you're looking for from him."
"It's all the things that we had surmised with a guy that's been in it before and the moment wasn't too big for him obviously. You go on the road in that kind of environment, you worry about how you're going to handle it and he did a terrific job."
Notre Dame now looks to Purdue for their third game of the season, where they will host the Boilermakers at home.
On3's Stephen Samra and Ashton Pollard contributed to this article.