WATCH: Notre Dame tight end Michael Mayer tells teammates 'I f***ing told you so' after TD catch against USC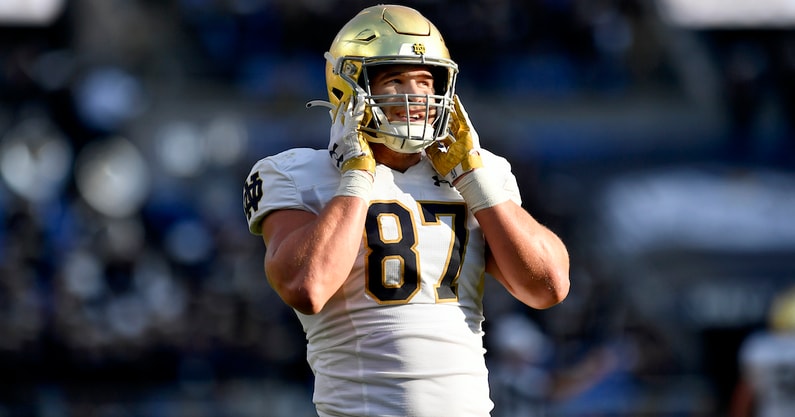 USC defensive back Max Williams didn't have much of a chance to stop Michael Mayer from catching the pass intended for him in the end zone. Mayer, the star Notre Dame tight end, was too big, too strong and too good for anything other than the inevitable: Touchdown, Irish.
As he got up and his teammates swarmed him to celebrate, the ABC broadcast picked up Mayer hooting and holler with his teammates, with an expletive or two — especially when quarterback Drew Pyne rolled in. Play-by-play announcer Chris Fowler remarked that it was "salty" down on the field.
"I f***ing told you!" Mayer said to Pyne.
CLICK HERE to subscribe for FREE to the On3 YouTube channel
"Let's go!" Pyne said in response.
"I f***ing told you!" Mayer repeated.
And after the Irish had struggled to score for most of the half, that touchdown got Notre Dame on the board and made it a one-score game, briefly.
However, USC quarterback Caleb Williams led a touchdown just before half to give USC a 17-7 lead at the break.
Notre Dame would've had an earlier scoring chance if not for a great play by Jordan Addison
What was originally ruled a USC fumble that was recovered by Notre Dame in the first quarter on Saturday night turned out to be an impressive individual play by Trojan wideout Jordan Addison. After star Notre Dame edge rusher Isaiah Foskey forced the initial fumble, the star USC receiver managed to regather the ball while he was on the ground.
But an Irish defender diving in for the ball punched it loose from Addison. When the Irish came up from the scrum with the ball, officials gave Notre Dame possession in what would've been a big swing in a 7-0 game.
Instead, after reviewing the play, they determined that Addison had regained possession of the ball. And because he was on the ground, he was down and the play was over.
And even though the turnover was reversed, the Irish defense came up with a big stop to hold USC to a field goal on that drive, getting the ball back, trailing 10-0.