4-star safety Jayden Bonsu commits to Ohio State: "I'm ready to be part of the brotherhood"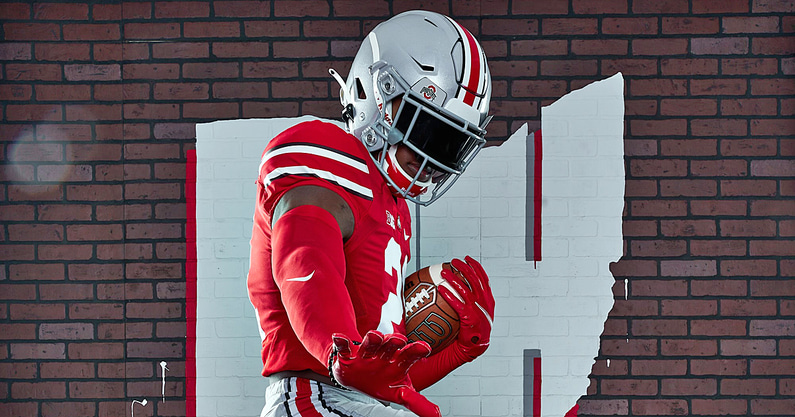 Jayden Bonsu almost committed around the middle of July. If the four-star safety out of Hillside (N.J.) St. Peter's Prep would have gone through with his initial commitment date, he would have committed to Miami.
After deciding to push his commitment back a few weeks, the No. 152 prospect in the On300 committed to Ohio State.
"I just took more time, went over all of the details again with my family, and I just feel Ohio State is the best place for me," Bonsu told On3. "We re-evaluated everything from top to bottom. We looked into the academics, scheme, relationships, playing time, and over time, I became confident in Ohio State."
Mario Cristobal had success as the head coach at Oregon. At Miami, his alma mater, though, he is a new coach with a new staff. That raised questions from Bonsu and swung things back towards the Buckeyes.
"Ohio State is an established program under coach Ryan Day. The staff is strong, they have a great history, and I fit best about the fit for me there.
"The Ohio State defense is a lot like what we run at St. Peter's too. I feel comfortable with the coaches, I like how they plan to use me, and the consistency stood out a lot too."
Bonsu's connection with Eliano made a difference
Perry Eliano moved to Ohio State from Cincinnati and Bonsu was a top target for him. Not long after making the move to Columbus, Eliano was on a plane to New Jersey to check on the No. 13 safety in the country.
That relationship played a role in Bonsu's commitment.
"Coach Eliano and I are really close," Bonsu said. "As soon as I got to know him, I knew I could trust him. He is a coach that will smile and congratulate his players, but he is never complacent.
"He is going to push me and develop me into the best I can be. Coach Eliano has my trust and he is going to stay focused, coach me hard, and I am excited about that. We just have that connection and he is going to be fun to play for."
Bonsu found that feeling in Columbus
From the beginning, Bonsu told media outlets all over the country that the feeling he had on campus would play a big role in his commitment. He felt good in Coral Gables, but he felt best in Columbus.
"The feeling I had when I was on my official visit stayed with me," Bonsu said. "I liked Columbus and it felt like home. On the field, I feel comfortable with the coaches, and off the field, I feel good around the people.
"From the feeling on campus to the scheme to the fit with the coaches to the history of the coaches at each school. Ohio State is a great fit for me. I am ready to be part of the brotherhood."