Devin Brown dominates 1st day of All-American Bowl practices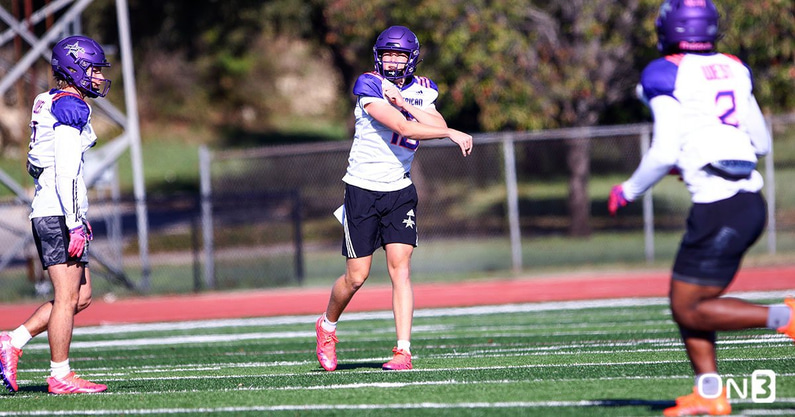 SAN ANTONIO, Texas – There were two major storylines from the first West practice at the All-American Bowl. The first was how COVID-19 has ravaged the roster. The second was the play of Ohio State-bound quarterback Devin Brown.
Because of COVID protocols, the West squad was left with only 37 players for Tuesday's practices at Trinity University. Game organizers are scrambling to find replacements.
Key players from the West roster like WR Tetairoa McMillan (Arizona), WR Darrius Clemons (Michigan), OL Jake Taylor (Oklahoma) and DB Gentry Williams (Oklahoma) weren't on the practice field Tuesday. Even players scheduled to announce in the game on Saturday like EDGE Cyrus Moss and DL Hero Kanu weren't on the field.
Devin Brown has 'it factor'
It's a good thing that Devin Brown is on the field, though.
Brown – the No. 43 player in the country, according to the On3 Consensus – was the most dominating quarterback and easily the most impressive player on the West player overall on Tuesday.
Devin Brown was flawless throughout drills, seven-on-seven play, and the ball just seemed to zip out of his hands unlike the other quarterbacks in the West camp. Brown even earned rave reviews from Southlake (Texas) Carroll coach Riley Dodge, who is working as the West receivers coach. Dodge said Brown "definitely has that it factor you want from great quarterbacks."
The Ohio State signee also made the play of the day when he connected with four-star wideout C.J. Williams with a perfectly thrown ball during the 11-on-11 session of practice.
"We don't have to test anymore, so all of us out here are good," Brown said. "I think there's like 30 guys that aren't playing. It's crazy. Everybody is calling it the COVID Bowl. The COVID All-Star Game."
But there was nothing sickly about how Brown performed on Tuesday. For his efforts, Brown was named by On3's Gerry Hamilton as the top performer of the day on the West squad. Brown said he was pleased by his performance, and it was a great way to start the week.
"I felt really good today," Brown said. "It was good to finally get some install in and get the playbook down. It was fun today."
Brown could contend for 5-star status
Coming into the game, Hamilton said Devin Brown was a guy that could make the leap from four-star to five-star status. He currently ranks as the No. 28 player according to On3 and the second-ranked quarterback in the country.
The On3 Consensus – a complete and equally weighted industry-generated average that utilizes all four major recruiting media companies – has him ranked slightly lower at No. 43 in the country and the sixth-best quarterback.
"Devin Brown is in my sights this week," Hamilton said earlier this week. "A jump from four star to five star is always a big jump, and Brown will have that opportunity. He's a smooth-moving athlete at the position with a quick arm and the ability to stretch the field vertically. He's a bit of a gunslinger, but that isn't a negative. Brown is confident, reactive, and is a playmaker."