Why Devin Brown is On3's No. 1 2022 prospect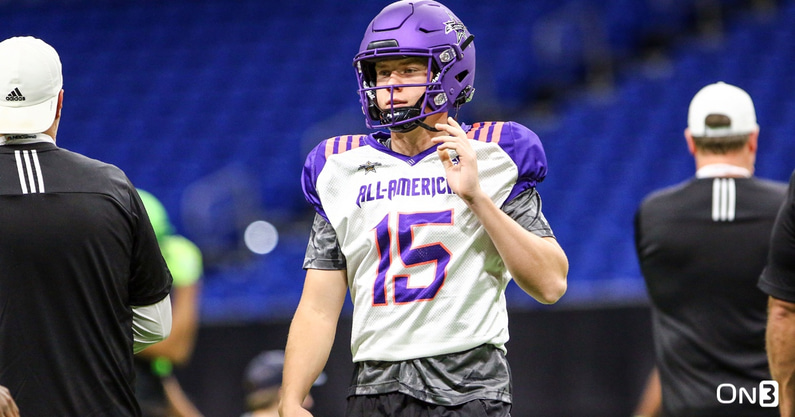 Selecting the No. 1 overall prospect is not always among the more difficult decisions in the rankings process.
Quarterbacks Bryce Young and Caleb Williams were fairly easy selections in our eyes for the top spot in the last two recruiting cycles, respectively. Future No. 1 draft picks like Jadeveon Clowney (2011 cycle) and Myles Garrett (2014 cycle) were emphatically dominant on the national stage.
2022 is not one of those cycles where there's an easy choice for the No. 1 overall prospect. While there is strong depth at positions like defensive line and wide receiver, premium positions like quarterback, EDGE and offensive tackle are a bit down nationally, particularly at the top.
Final 2022 On300 Prospect Rankings
The 2022 cycle is the blurriest race for the No. 1 prospect in the last several years. The cycle most closely resembles 2019 which saw Georgia EDGE Nolan Smith, Oregon EDGE Kayvon Thibodeaux and LSU cornerback Derek Stingley as the top three in the On3 Consensus rankings. We see that ambiguity reflected in this upcoming NFL Draft, which is widely considered one of the weaker drafts at the top in recent memory.
In working toward deciding on the No. 1 prospect, we narrowed things down to our top three – Ohio State quarterback signee Devin Brown, Georgia defensive line signee Mykel Williams and Alabama EDGE signee Jihaad Campbell.
Deciding on Devin Brown as top QB
We first had to settle on our top quarterback with Brown and Penn State signee Drew Allar being the clear top two in our mind. Unlike 2019, which was headlined by Spencer Rattler, we do feel a little better about these top two signal-callers, with both ranking in the top 10. Still, it was not an easy decision.

Allar has ranked as the No. 1 quarterback in the cycle since the initial On300 ranking in August. The 6-foot-5, 230-pounder is the top arm talent in the cycle with the ability to effortlessly drive the ball downfield while throwing with touch and location do different levels from multiple arm slots.
Brown rose to our No. 2 quarterback entering the final ranking on the heels of a senior season where he showed high upside as a downfield passer. Brown transferred to Utah powerhouse Corner Canyon and put up gaudy passing stats. He completed 68.3% of his passes for 4,815 yards and 57 touchdowns. Brown did so while throwing for 12.9 yards per attempt – the highest mark among top quarterbacks in the class. His yardage total broke the single-season record in the state of Utah.

Brown excelled as a downfield passer. At 6-foot-2.5 and 195 pounds with 10-inch hands, Brown throws a consistently tight ball that comes out of his hand hot. We saw the continued progression from Brown over the course of the season. He played his best football in the playoffs while leading his team to the cusp of a state championship. He also receives strong reviews from trusted sources relative to intangibles at the position.

While Brown had a big senior season at Corner Canyon, there are some questions and areas for improvement. He threw 14 interceptions in 14 games. The aggressive mentality can get him into trouble at times. Cleaning up some decision-making and adjusting to the uptick in the competition will be key to his success at the next level.
Ultimately, we gave Brown the edge over Allar due to his perceived advantage in movement skills. Simply, we found Brown's athleticism and foot quickness to be more projectable to escapability at the next level. While neither look to have the elite processing ability and feel of a Bryce Young or the pure athletic horsepower of Caleb Williams, both Brown and Allar have the talent to live up to their lofty rankings.
Click here for a deeper dive on Devin Brown's skill set
Mykel Williams makes statement
We viewed Mykel Williams as the safest pick of the top three. The Georgia signee entered the all-star circuit as the No. 4 overall prospect in the On300. After seeing well over 100 of the nation's top prospects at the Under Armour All-America Game and the All-American Bowl, it was evident Williams was underrated at that high spot.
There are little to no questions about Williams as a prospect. He has a great frame at around 6-foot-5 and 260 pounds with 34-inch arms. Williams has been one of the more productive defensive prospects in the cycle, averaging 1.3 sacks per game and nearly 20 tackles for loss per season over the course of his high school career. The Columbus (Ga.) Hardaway product is highly skilled and plays hard. He's also young for the class and doesn't turn 18 years old until June.
Williams is ranked as a defensive lineman but is not a quintessential "defensive tackle." He is lighter and longer than Michigan defensive end Aidan Hutchinson at the exact same stage. We saw Williams put on a pass rush show at the All-American Bowl. I would contend he is the most technical pass rusher in the 2022 cycle regardless of position. The Bulldog signee has a deep bag of rush moves that he put on display in San Antonio. He dominated the offensive line in every setting – 1-on-1's, inside drills, scrimmages, and the game itself. Williams' showing at the All-American Bowl was among the best all-star performances I've seen from a defensive line prospect.
Where Williams' body takes him may be the biggest factor in what position he ultimately ends up playing at the next level. I've long compared Williams to former five-star current Kansas City Chief defensive tackle Chris Jones, who was ranked as high as No. 2 overall in the 2013 cycle. While I could see Williams potentially becoming a jumbo outside rusher like Hutchinson, I think his body type could easily add much more weight in Georgia's strength program, similar to Jones at Mississippi State. At this point, Williams seems most likely to play as a five-technique like where we saw Travon Walker for the Bulldogs this season.
Jihaad Campbell's unique skills
Jihaad Campbell has been a revelation since transferring to IMG Academy from Sicklerville (N.J.) Timber Creek prior to his senior season. Campbell was primarily an off-ball linebacker but has grown into a legitimate EDGE prospect over the past year.
For starters, Campbell has one of the better frames we saw at the Under Armour All-America Game. He looks to have added some height and mass over the past year, appearing to be around 6-foot-3.5 and 220-pounds. Campbell is a top athlete at that size, running an electronically-timed 4.52-second 40-yard dash at IMG's pro day during the spring.

The Alabama signee regularly impressed as a senior. Simply put, Campbell has one of the best motors I've seen from a defensive prospect in several cycles. He is a hair-on-fire defender who plays with a tenacious effort level.
Campbell primarily lined up on the edge for IMG and rushed the passer on over half his snaps. He excels as a pursuit defender, where he can use his athleticism and effort to track down plays behind the line of scrimmage. He also has rare versatility. We saw Campbell legitimately play cornerback in one game, something unheard of for a pass rusher at his size. Campbell looked like the top defender and arguably the top prospect for IMG at nearly every turn during the fall.

The one-time Clemson pledge has considerable upside as a pass rusher. With that said, he is still a bit of a projection at that spot. Campbell will need to continue strengthening his anchor as a run defender and is still developing in terms of bend and pass rush moves. It would not be a surprise to see him start out as an off-ball linebacker in Tuscaloosa before ultimately working his way down the line of scrimmage to rush the passer.
Making the final call
After deep dives into the senior video and all-star performances of each, extensive deliberation and some vacillations, we ultimately came to a group decision to go with Devin Brown as the No. 1 prospect.
The decision is one that does not come without risk, but we view Brown's ultimate upside as the highest of the three due to positional value. Our goal in formulating the rankings is to assess a prospect's long-term potential in college football, as manifested by the NFL Draft. While all three have the potential to be a future top draft pick, we landed on Brown's ceiling as the determining factor.