Five-Star WR Brandon Inniss commits to Ohio State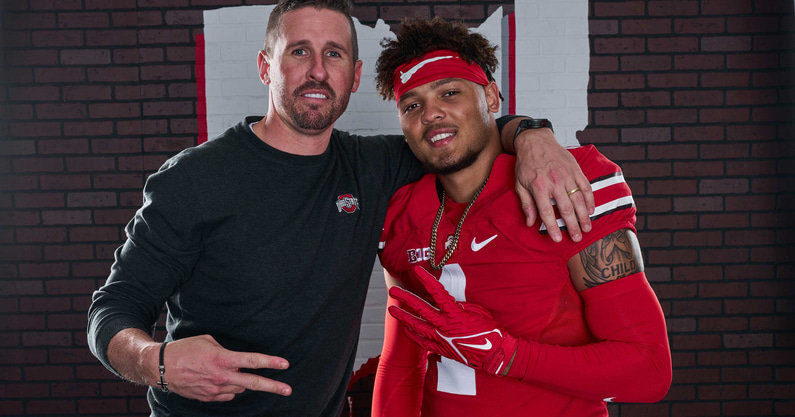 Five-star wide receiver Brandon Inniss of Miami Gardens (Fla.) American Heritage announced his commitment to Ohio State Tuesday afternoon.
The 6-foot-1, 200 pounder chose the Buckeyes over USC, Miami, Alabama, LSU, and Texas A&M.
Inniss on why he chose Ohio State
"The coaches there," Inniss said. "I built a great relationship with them over time. I know coach Hartline will develop me to be the best version of myself on and off the field. Also the competition in the WR room is going to be great. I will have other top guys like me pushing me everyday and that's what I need."
Brandon Inniss and Carnell Tate
"Back2Back is something I thought of because Cris Olave and Garrett Wilson went Back2Back in the NFL draft and that's something I thought would blow up," Inniss said. "Our bond is very strong from SFE being with each other every weekend. I'm definitely excited to team up with him at the next level. I know he will push on the field and I'm going to push him. They couldn't stop us on SFE so I'm not expecting them to stop us at Ohio State either."
Inniss plans to be "lead recruiter" for Ohio State
"I'm going to be the lead recruiter for the 23 class," Inniss said. "I've been recruiting already because I knew I was going to Ohio State for a while.I'm going after Noah Rogers, Caleb Downs, Daemon Fagan, and whatever other players the coaches want me to get."
Brandon Inniss Scouting Summary
"Developed wide receiver who has been on the national radar dating back to middle school," On3's Director of Scouting Charles Power wrote. "Emerged as a college prospect while playing on varsity as an eighth grader. Has a technically advanced skill set. Has high-level quickness both in his releases and at the top of his routes. Can break off defensive backs with his change of direction. Competitive and embraces matchups with other top prospects. A standout on the camp and 7-on-7 circuit. Tests as a good athlete in the combine setting."
Inniss ranks as the No. 22 player in the On3 Consensus, a complete and equally weighted industry-generated average that accounts for all four major recruiting sites. He also tabs in as the No. 4 wide receiver and the No. 6 player in the state of Florida.