Former Ole Miss CB Davison Igbinosun commits to Ohio State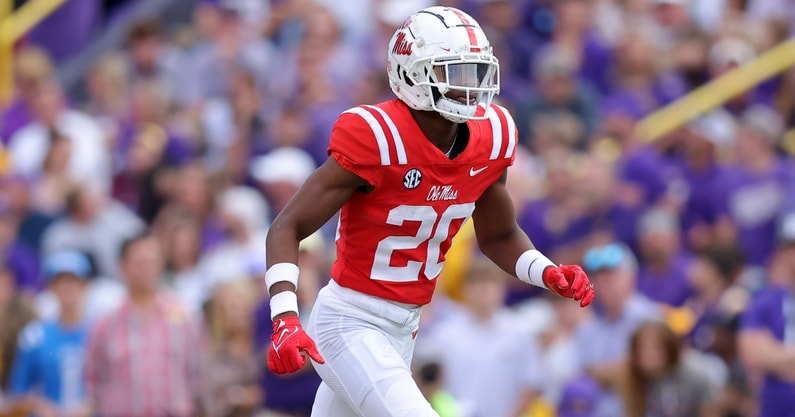 Former Ole Miss cornerback Davison Igbinosun announced his commitment to Ohio State Tuesday afternoon.
The 6-foot-2, 185 pounder will have three years of eligibility remaining.
Igbinosun on why he chose Ohio State
"I've been an Ohio State fan my entire life and everything worked out in my favor to get there. They have a history of producing 1st round cornerbacks and I want to be next. Another huge reason is their receiving core , they're the best wideouts in college football and competing against the best everyday will only make me better."
Transfer portal background information
The NCAA Transfer Portal, which covers every NCAA sport at the Division I, II and III levels, is a private database with names of student-athletes who wish to transfer. It is not accessible to the public.
The process of entering the portal is done through a school's compliance office. Once a player provides written notification of an intent to transfer, the office enters the player's name in the database and everything is off and running. The compliance office has 48 hours to comply with the player's request and that request cannot be refused.
Once a player's name shows up in the portal, other schools can contact the player. Players can change their minds at any point and withdraw from the portal. However, once a player enters the portal, the current scholarship no longer has to be honored. In other words, if a player enters the portal but decides to stay, the school is not obligated to provide a scholarship anymore.
The database is a normal database, sortable by a variety of topics, including (of course) sport and name. A player's individual entry includes basic details such as contact info, whether the player was on scholarship and whether the player is transferring as a graduate student.
A player can ask that a "do not contact" tag be placed on the report. In those instances, the players don't want to be contacted by schools unless they've initiated the communication.