Four-Star OT Deontae Armstrong commits to Ohio State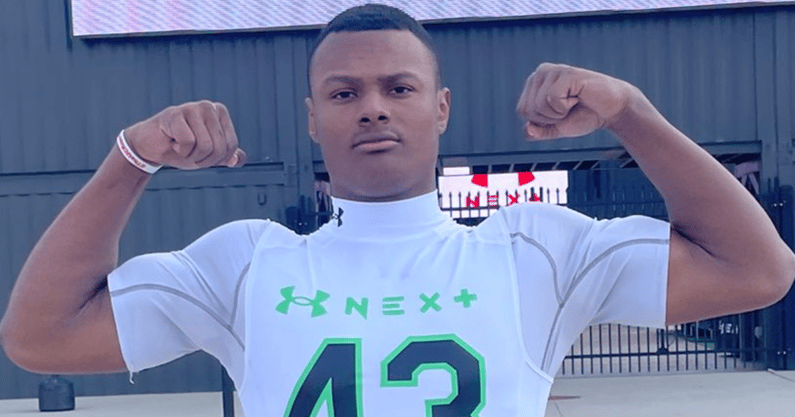 Four-star offensive tackle Deontae Armstrong of Lakewood (OH) St. Edward announced his commitment to Ohio State Monday afternoon.
The 6-foot-7, 285 pounder chose the Buckeyes over Michigan, Penn State, and Georgia.
Deontae Armstrong on why he chose Ohio State
"What stood out to me is how much like a family it already felt there, knowing all the coaches, the staff, the players," Armstrong said. "Getting to meet Coach Frye's wife and kids, and his family meeting mine. It all just felt like home."
Relationship with coaching staff and their plan for Armstrong
"I'm closest to Coach Frye," Armstrong said. "I've talked on the phone for hours with him, FaceTimes and very frequent visits during the contact period all helped. I've known him longer than a lot of other coaches considering we first started our relationship early March of last year. Coach Frye's plan is to make me the best version of myself for long term success at the highest level."
What it means to stay home to Deontae Armstrong and family
"It means the world to me and my family to stay home," Armstrong said. "Growing up an Ohio State fan it was always a dream to play for them, to make that a reality now is surreal. I can't wait to wear the scarlet and gray."
The Ohio offensive tackle joins coach Day and the Buckeyes' Top 5 class in the On3 Industry 2024 Team Rankings. He is accompanied by five-star wide receiver Jeremiah Smith, four-star interior offensive lineman Ian Moore, and others. His primary recruiter was Tony Frye and was also being recruited by Tony Alford.
Armstrong ranks as the No. 303 player in the On3 Industry Ranking, a weighted average that utilizes all four major recruiting media companies. He also tabs in as the No. 22 offensive tackle and the No. 10 player in the state of Ohio.
Deontae Armstrong currently has an On3 NIL Valuation of $45K. The On3 NIL Valuation is the industry's leading index that sets high school and college athletes' projected annual value (PAV). The NIL valuation does not act as a tracker of the value of NIL deals an athlete has completed to date. It rather signifies an athlete's value at a certain moment in time.