Four-Star OT Devontae Armstrong commits to Ohio State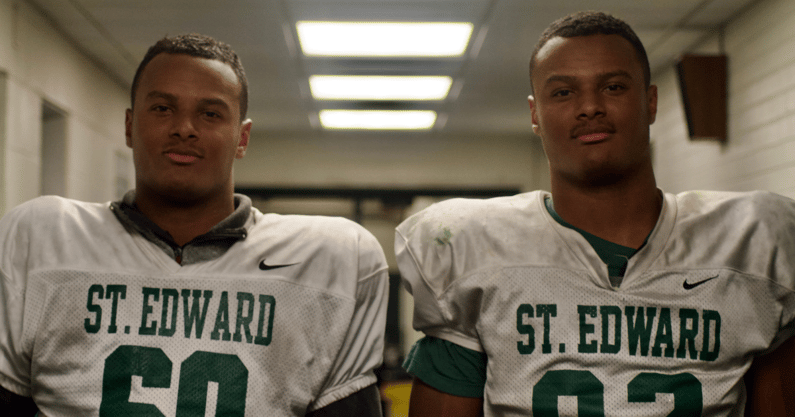 Four-star offensive tackle Devontae Armstrong of Lakewood (OH) St. Edward High announced his commitment to Ohio State Monday afternoon.
The 6-foot-6, 292 pounder chose the Buckeyes over Michigan, Penn State, and Georgia.
Devontae Armstrong on why he chose Ohio State
"Heading into Sunday's visit, we have in total been to Ohio State 4-5 other times so the coaching staff really made it clear to us that anything that our family and I wanted to see whether it be academics or Football, then they would provide those things for us to see on this visit. Each time we visited Ohio State they were consistent in welcoming us each time and getting all of our questions answered." 
I would say the " highlights" of this weekend were being able to be in the film room, just getting to see how Coach Frye and the staff interacted with the players and the intensity that Coach Frye and Coach Sollenne have throughout practice that they really bring out the best in a player which is something that both Me and my brother wanted to be apart of. My favorite moment of that day, and the whole recruiting process, is when at the end of the visit in Coach Day's office after practice my brother and I told him we have seen enough and that we'd like to commit to Ohio State today. He jumped up with a big smile and hugged us and ran to get Coach Frye. It was just an overall surreal experience. 
We've grown up watching Ohio State since the day we were born, always seeing them on TV. It really was just a dream come true to actually be getting recruited by Ohio State and when Coach Frye came to our school in January and offered my brother and I, we just looked at each other and smiled. 
Coach Frye really likes my athleticism and where my body is at right now, he sees Me as more of an IOL player but he likes that I could be able to play both inside at Guard, and outside as a Tackle.
The Ohio offensive tackle joins coach Day and the Buckeyes' Top 5 class in the On3 Industry 2024 Team Rankings. He is accompanied by five-star wide receiver Jeremiah Smith, four-star interior offensive lineman Ian Moore, and others. His primary recruiter was Tony Frye and was also being recruited by Tony Alford.
Armstrong ranks as the No. 332 player in the On3 Industry Ranking, a weighted average that utilizes all four major recruiting media companies. He also tabs in as the No. 24 offensive tackle and the No. 12 player in the state of Ohio.
Devontae Armstrong currently has an On3 NIL Valuation of $35K. The On3 NIL Valuation is the industry's leading index that sets high school and college athletes' projected annual value (PAV). The NIL valuation does not act as a tracker of the value of NIL deals an athlete has completed to date. It rather signifies an athlete's value at a certain moment in time.