Chris Holtmann shares what Ohio State learned without Zed Key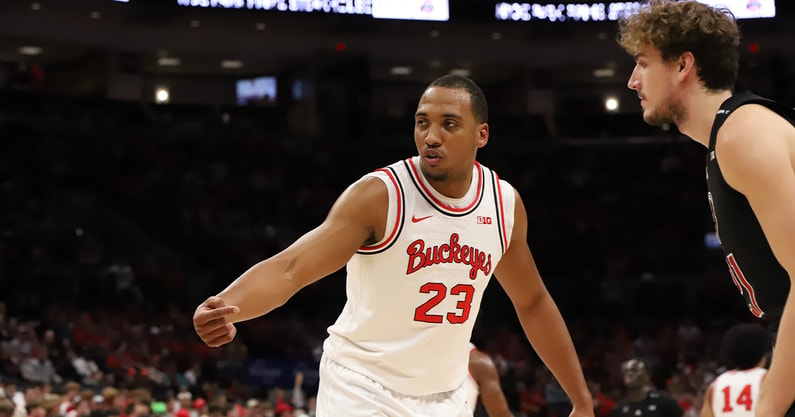 Ohio State was in desperate need of a win against Iowa, entering the matchup on a five game losing streak. Thanks to the solid play of people such as Zed Key, the Buckeyes were able to get back to winning days but not everything went to plan.
Key had to leave with a knee injury, with his status for Tuesday's game against Illinois being in jeopardy. If he is not able to play, head coach Chris Holtmann will have a massive hole in the lineup. According to Holtmann, the physicality is what Ohio State would miss the most if Key cannot play.
"We missed his physicality and his ability to be physical over the course of a game," Holtmann said. "We got to figure out how to supplement that. We just missed his physicality. Zed can have moments where he can be frustrated with himself or miss easy buckets.
"In general, he provides a physical body and that's what we've missed. We're going to have to supplement that if he's out."
Key has been a consistent figure for the Buckeyes, being in double figures in the past four games. He was even able to get a double-double in there, going for 11 points and 10 rebounds in a road loss to Nebraska.
Chris Holtmann discusses Owen Spencer receiving scholarship
Ohio State forward Owen Spencer was awarded a scholarship following the Buckeye's 93-77 win over Iowa Saturday afternoon. OSU head coach Chris Holtmann discussed his reasoning for giving the now-former walk-on the scholarship halfway through his first season in Columbus.
"Owen has been great for us. We had a scholarship available after Seth [Towns'] medical issues.," Holtmann said Monday. "We anticipated it all along. We thought potentially we could hang on to it, but he's very deserving of it. He's 6-foot-9, 220 pounds, he provides us with a scout team center that can also play in a pinch if we need him. Great attitude, great kid, we were really happy to provide that moment for him."
Spencer transferred from The Citadel to Ohio State and joined the program as a walk-on after spending the first two seasons of his career in Charleston.
The 6-foot-9 native of Cincinnati has appeared in five games for the Buckeyes this season, amassing a total of three points and seven rebounds in 12-and-a-half minutes of play. But his impact extends far beyond the season game log, hince the late scholarship offer.