Kirk Herbstreit believes Ohio State quarterback battle could leak into season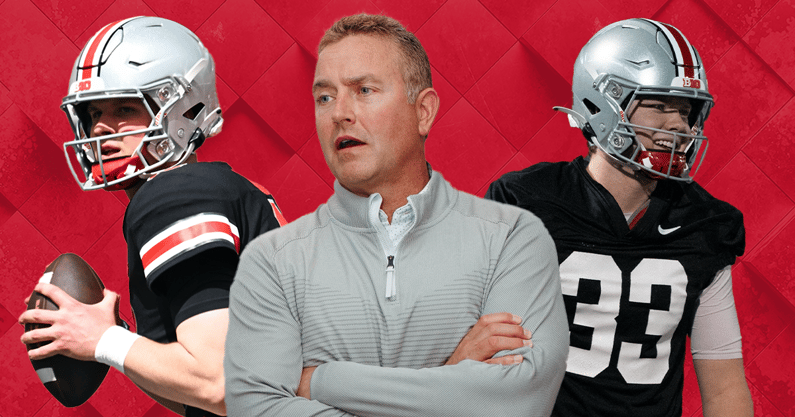 Ohio State has a very big question still to answer heading into the 2023 season: Who will be the Buckeyes starting quarterback? According to Kirk Herbstreit, a former Buckeye QB himself, the Ohio State coaching staff probably doesn't even know yet.
Between Devin Brown and Kyle McCord, Herbstreit thinks Ohio State has a pair of capable options. But he doesn't think any sort of decision will be formed until at least preseason camp and early scrimmages. And no matter who the Buckeyes go with, Herbstreit is confident the points will follow.
"I don't think they even know. I really don't. I think you've got two guys that are more than capable. Ohio State's been pretty spoiled at that spot with their receivers since Ryan Day's taken over. They're going to find a way to put a lot of points on the board, regardless of which guy wins it," Herbstreit said to On3's J.D. PicKell at the On3 NIL Elite Series in Nashville.
Neither McCord nor Brown have extensive experience running the show for the Buckeyes, as CJ Stroud took hold of the job the past two season en route to being the No. 2 overall pick in the 2023 NFL Draft.
But the talent is there and the Ohio State schedule sets up for the quarterback competition to bleed into the season, a la what Jim Harbaugh did at Michigan last season, Herbstreit said. The notable difference for Ohio State is one of the quarterbacks isn't a returning starter.
The Buckeyes have an early test, traveling to play Indiana in the opener, but should be able to win on the running game and defense so long as the quarterbacks are competent. Then a pair of home games against Youngstown State and Western Kentucky could set the table for a decision on the full-time job ahead of a rematch with Notre Dame in South Bend on Sept. 23.
"I think he'll go into summer camp, they'll have those scrimmages. And then I wouldn't be shocked if they used the first two or three games to let these guys play it out. It's hard to make a big decision like that from a scrimmage in the summer. It's only fair. Like what Jim Harbaugh did last year. Give a guy a half or a game, give the other guy the same thing," Herbstreit said, "then I think it's easier to make the decision."