Kirk Herbstreit opens up on what it meant to play at Ohio State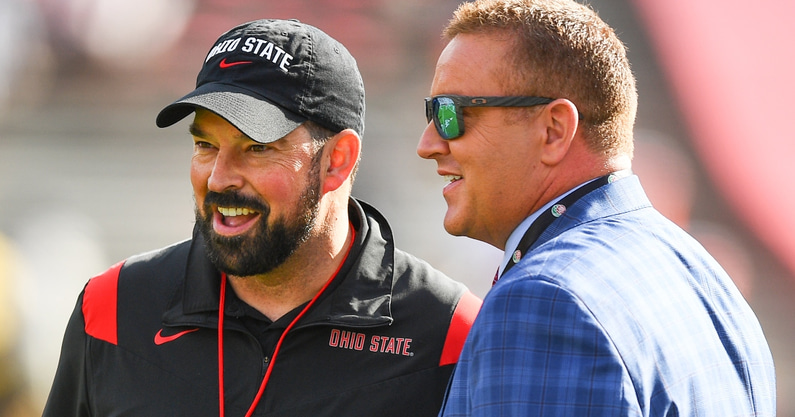 It was always Ohio State or nowhere for Kirk Herbstreit.
In an appearance on Gramlich and Mac Lain, the former Buckeyes quarterback turned prominent ESPN analyst opened-up on what it meant to him to play for Ohio State.
"I grew up in the '70s and the guy named Archie Griffin was a pretty good player. Won two Heisman Trophies. The only guy to win two Heisman Trophies. For me, Archie Griffin was like a God," explained Herbstreit. "My dad being a former player, he would take me to games from time to time and I'd go into the locker room after a game and I'd see Woody Hayes and I'd sit on his lap and he'd have that white T-shirt or that dress shirt that was half-sleeve and his tie and his coaching hat and his glasses. I was sitting on his lap as a 5- or 6-year-old, like I'm looking at Santa Claus. And I'm just like, I cannot believe that.
"And then I'd go put Archie Griffin's helmet on. It was just almost surreal my whole life. Ohio State was everything to me, and even pro football was like, it was OK, but Ohio State was everything."
While many athletes dream of playing at the collegiate level, not everyone is able to suit-up for their dream school. Continuing, Herbstreit detailed the journey he went through to become a member of the Buckeyes.
"So as I grew and became an athlete and eventually became a prospect — and I could have gone to a number of schools across the country — I knew I was going to go to Ohio State all along and live out that lifelong dream. Yeah, so that was my journey," reminisced Herbstreit. "That was kind of my dream of trying to make it one day. Go to be at night as an 8-, 9-, 10-, 11-, 12-year-old thinking about playing for Ohio State.
"I think Clemson kind of did something with their social media, showing a youngster at the mailbox and then eventually dreamed about it and lived it out. That was me with Ohio State."
After watching his Dad — former Ohio State captain turned assistant coach Jim Herbstreit — Kirk Herbstreit knew Columbus was the only place for him. After joining the team in 1989, Herbstreit made his mark on his beloved program's history, ascending to co-captain, team MVP and setting team records as Ohio State's starting quarterback.
Since his collegiate career ended, Herbstreit has become one of the most recognizable voices in college football, anchoring ESPN's coverage as part of their wildly-popular College GameDay show.
Additionally, his sons have followed in his footsteps on the field. Jake Herbstreit played football at Clemson, but transferred to Ohio State to focus on academics when he hung up his cleats, while Zak Herbstreit joined the Buckeyes as a preferred walk-on tight end last season.