LOOK: Jayson Tatum spotted in Ohio State jersey in Columbus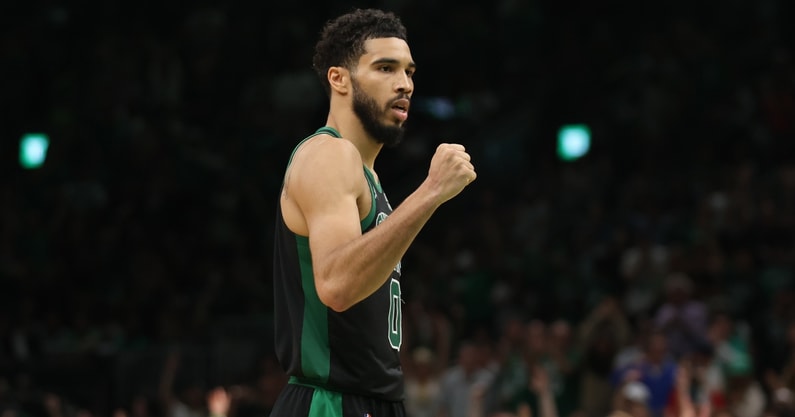 Former Duke basketball star and current Boston Celtic Jayson Tatum has defected from his alma mater and was spotted rocking an Ohio State jersey in Columbus ahead of the Buckeyes opener against Notre Dame.
Tatum was seen with other NBA players Andre Iguodala (an Arizona alum) and Evan Turner, who played hoops for Ohio State from 2007 to 2010, at Saint John Arena, where the Buckeyes play basketball and host pregame events for football. In a video posted on Twitter, you can see Tatum mingling with his fellow hoopers a few hours before kickoff.
While Tatum is rocking a No. 7 jersey, a name on the back is not visible in the video — but the vintage would suggest it might be a Ted Ginn Jr. jersey. Not a bad choice for an evening watching the Buckeyes.
Ryan Day wanted the Buckeyes to 'cash in' on their offseason work
Right before Ohio State kicked off the season against Notre Dame on Saturday night, head coach Ryan Day spoke with ESPN's Holly Rowe on the sideline. The head coach was excited about the atmosphere and ready for his team to show off what they've worked on.
Specifically, Day said the offseason had been focused on three things: skill, discipline and toughness. He wants Saturday night to be a display of those things.
"Well this whole preseason has been about skill, discipline and toughness," Day said. "And so I hope today it's going to be on display because these guys have been working really hard for this moment."
Asked about quarterback CJ Stroud, a preseason Heisman favorite, Day said now is the time to go "cash in" on what Stroud and the Buckeyes have worked on all offseason.
"This is what we've been talking about for a long time," Day said. "Unbelievable atmosphere. Now it's time to go really work on — what we've worked on so hard, go cash in on that."