Mother of Jaxon Smith-Njigba fires back at Todd McShay, ESPN over NFL Draft assertion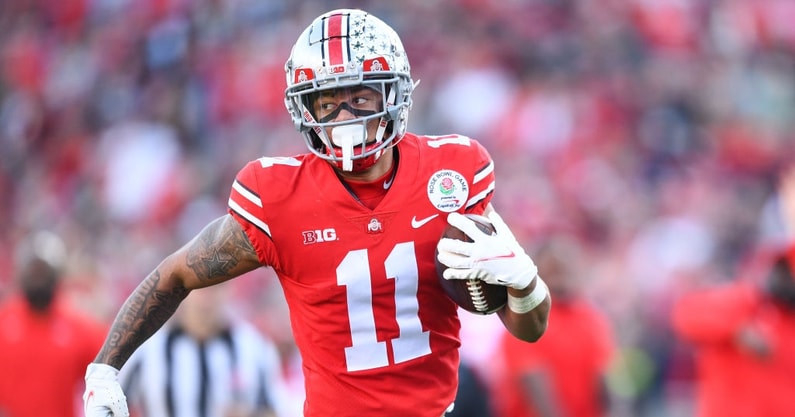 Once Jaxon Smith-Njigba capped off a historic Rose Bowl performance, he was dubbed the top wide receiver in college football heading into the 2022 season. Those expectations were not met, with injuries keeping Smith-Njigba on the sidelines for a majority of the year.
Even without him, Ohio State finds itself still in the national championship hunt, facing Georgia in the College Football Playoff semifinal. Smith-Njigba decided to shut down the rest of his season and focus on the 2023 NFL Draft. Not every scout was a fan of the move according to ESPN's draft analyst Todd McShay.
"Would love to see him play," McShay said on Smith-Njigba and the Peach Bowl. "Obviously, NFL scouts would love to see him play and there are a lot of reports from NFL scouts that I have talked to that say he's healthy enough to play and he's protecting himself for the draft."
Opt-outs have not affected players in the past, with McShay using LSU cornerback Derek Stingley as a recent example. Despite not playing in 2021, he was still selected in the top five by the Houston Texans.
However, more questions surround Smith-Njigba than a prospect like Singley, with McShay saying he could even go in the second round. McShay has also heard choosing to not play in the CFP could hurt how NFL teams view him.
"I'm not saying it's going to hurt his draft stock," said McShay. "But with Jaxson Smith-Njigba, he's a late first, early second-rounder. Great college player, great slot player but he has some drops, he doesn't have exceptional size, he doesn't have exceptional speed.
"So, there we some things coming into the year, after the great year he had, the scouts are point to and saying 'I'm not sure he's a lock to go top 15, top 20. Now, the fact that he's not playing certainly isn't going to help that stock."
Mom of Jaxson Smith-Njigba pushes back on Todd McShay
Not everybody agreed with the assessment of McShay but the Mom of Smith-Njigba, Jami, took some time to respond on Twitter.
She said anyone encouraging the wide receiver to play against Georgia is "selfish and abusive." The decision to opt-out seems to be one the Smith-Njigba family is at peace with.
"Being w my son yesterday for his first day of rehab and seeing his limitations for myself gave me peace w our (family's) choice to get my son healthy," she said. "Encouraging him (to) play would be selfish and abusive. I'm at peace bc I know he's in the right hands (for) recovery."
In the latest PFF mock draft, Smith-Njigba was still a first-round pick, going No. 28 overall to the New York Giants. Getting back to 100% health will be the goal for Ohio State's top playmaker, hoping to impress in front of scouts at the NFL combine.