LOOK: Ohio State AD Gene Smith sounds off on the issues surrounding NIL, boosters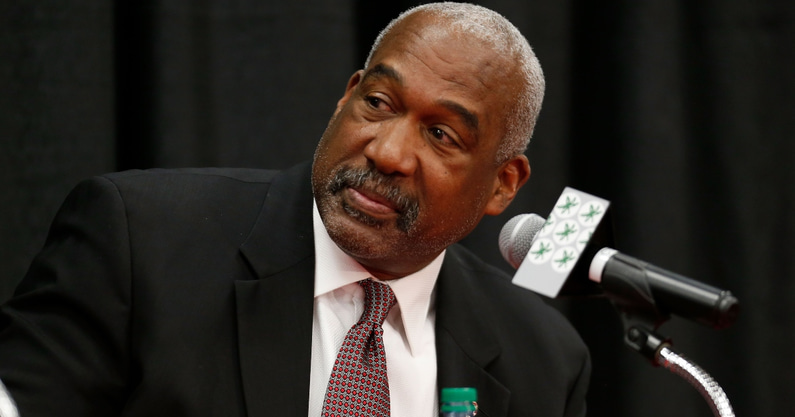 The introduction of NIL was something that a lot of people have been wanting to see for many years. But in the first year of the NIL era, many problems have come up. NIL has begun being used as a recruiting tool, and that goes against the original goals when it was introduced. Over the weekend, Ohio State athletic director Gene Smith became the latest in a long line of prominent figures across the NCAA to speak out about where NIL has been going.
Smith spoke to The Athletic's Nicole Auerbach, where he expressed his concerns surrounding booster involvement when it comes to NIL and recruiting.
"Obviously, the biggest concern is the booster engagement in the recruiting and inducement area," Smith said, via Auerbach. "We feel like we are not doing a good job of enforcing what we need to enforce that space."
Smith is a member of the NIL subcommittee, and he sees some clear issues with the conduct of many across the nation in regards to NIL.
"We have to begin to crack down on the bad actors and behavior that is inappropriate," Smith said.
Now, the NCAA is fighting for a solution to the problems that have risen with NIL. But when it comes to taking action against the issues with NIL, the NCAA is in a truly tricky position with not a lot of wiggle room as far as what they can do.
"Smith acknowledged that 'there is risk' that comes along with taking a position like this, and that the NCAA could be sued," Auerbach tweeted. "He called it a 'calculated business risk' & said legal has reviewed the subcommittee's recommendations re: boosters."
New guidelines would aim to ease some of the issues brought up by Smith with NIL
On Thursday, reports surfaced that leaders across the nation in college sports are pushing for the enforcement of new NCAA guidelines with NIL. Boosters are not currently able to be involved with recruiting, but last week there were some NIL-related incidents that were heavily scrutinized.
Pittsburgh wide receiver Jordan Addison entered the NCAA Transfer Portal, but before he did, it was reported that a potential NIL deal was already in place if he opted to transfer to USC. An unnamed five-star recruit also reportedly had an $8 million NIL deal waiting for them once they committed.
Smith's concerns regarding NIL are shared by many across the nation, and now all sides are working towards a plausible solution that can help clean things up. Colorado athletic director Rick George said that potential new guidelines could state that boosters "cannot communicate with a student-athlete or others affiliated with a student-athlete to encourage them to remain enrolled or attend an institution," which would be a big step towards solving some of the NIL issues brought up by Smith.
On3's Nick Schultz contributed to this report.