Ryan Day: Roles vacated by Chris Olave, Garrett Wilson must be earned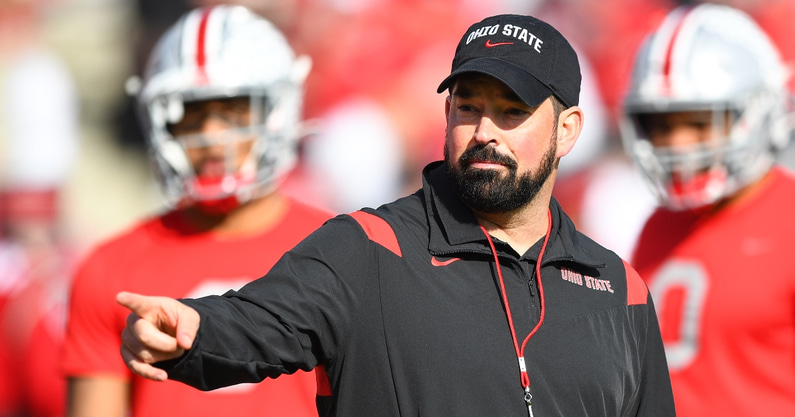 The Ohio State Buckeyes lost nearly 2,000 yards of receiving and 25 touchdowns when receivers Garrett Wilson and Chris Olave were drafted in the first round of this year's NFL draft. They bring back prolific receiver Jaxon Smith-Njigba, but aside from him some shoes must be filled in the receiver room in order to maintain their dynamic passing attack from last season. Head coach Ryan Day spoke at a recent press conference on who may earn those roles and step up this season at receiver.
"Yeah, and you don't just walk in and think that's just going to happen like you said, I thought all those guys had a great offseason. Julian Fleming had the best offseason he's had to this point, he was an Iron Buckeye, one of the most improved, that was excellent. Emeka (Egbuka), I think he graded out as a gold so that was great. Marvin (Harrison) was solid all offseason, so you know those guys, Xavier Johnson was in the mix, Kam Babb same thing," Day said.
Ohio State has a stable of four and five star talent waiting in the wings at wideout, hoping to get drafted in the future like Olave or Wilson and follow the footsteps of receiver alumni like Terry McLaurin or
Michael Thomas. Out of the receivers mentioned by Day, Fleming had the most receptions last season with 12 for 86 yards and a touchdown, but Harrison came on late in the season securing six catches and three touchdowns for the Buckeyes in the Rose Bowl, tying the game record.
Regardless of who ends up getting the receiver reps for Ohio State this season, coach Day is looking for toughness and leadership out wide this season.
"So those guys when you look at them they're strong and they're tough and we need toughness on the perimeter and guys who are going to make plays and certainly the technique of route running. We're really looking for leadership there and across the board, you think of wide receivers you don't think of toughness but we want toughness all across the board so that'll be important with that group, and just grinding to get better every day," Day said.