Ohio State can delay picking a starting quarterback for 2023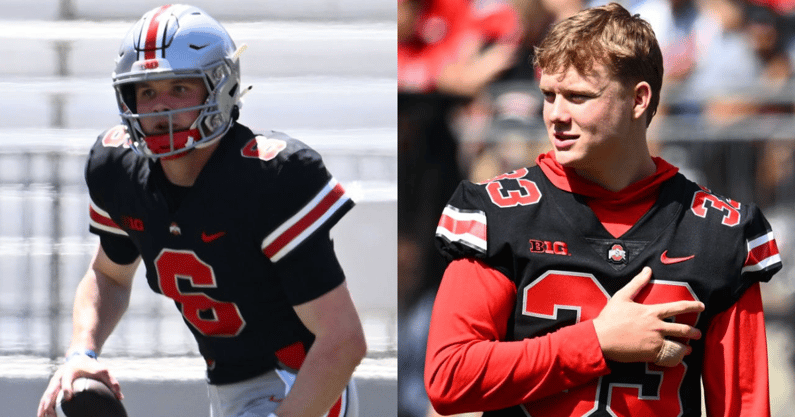 It'll take a lot for Kyle McCord or Devin Brown to fill the hole CJ Stroud left at Ohio State. Still, in the opinion of On3's JD PicKell, the Buckeyes don't necessarily have to rush their decision about who they task with doing so.
PicKell explained his point in a recent episode of 'The Hard Count'. He said Ohio State's early schedule means they could use it to continue their quarterback competition throughout those matchups. Then, after that stretch, he believes that the decision may already be made for them by how either McCord or Brown plays under the bright lights in Columbus.
"You don't need to pick a starter, based on your schedule, until a couple of games into the season," stated PicKell. "And so if it's going back and forth, if it's kind of neck and neck? The luxury you have based on the talent on your roster and based on the way your schedule sets up is you can afford to be as certain-ish as possible."
"Both these guys can sling the rock. They're five-star guys for a reason. They got the credentials to go with it. Your first three games are as follows: at Indiana, you play Youngstown State, then you play Western Kentucky," PicKell continued. "No disrespect to any of those operations…But what I'm trying to say is maybe you treat this kind of how Michigan treated things (last season). Maybe you kind of just let the competition reveal who's supposed to be your starting quarterback."
"What I'm trying to say is competition is a beautiful thing. Because it's not gonna lie to you, especially not in a sample size of three games. And all three of those games? Ohio State should win," PicKell said. "I think it's a great opportunity to figure out what you have under the hood. And who you want in a bright lights situation for both those quarterbacks."
McCord might already have the lead when it comes to experience alone. He is entering his third season with Ohio State after playing in 12 games over the past two. In those dozen appearances, McCord has thrown for just over 600 yards and three touchdowns on a 72.9% completion rate.
However, Brown isn't out of Ohio State's competition yet. He comes into 2023 with some experience against Toledo and Rutgers last year, a season in which he redshirted. Just like McCord, though, he has the experience and pedigree of a former five-star and top-five quarterback in his class.
In the end, PicKell is just suggesting that the Buckeyes take it easy when it comes to making a final call. Considering they'll be heavily favored over that first trio of matchups, he thinks they have plenty of time to sort things out, even if it means letting things draw out into the season.