Ryan Day provides status update on Jaxon Smith-Njigba, Julian Fleming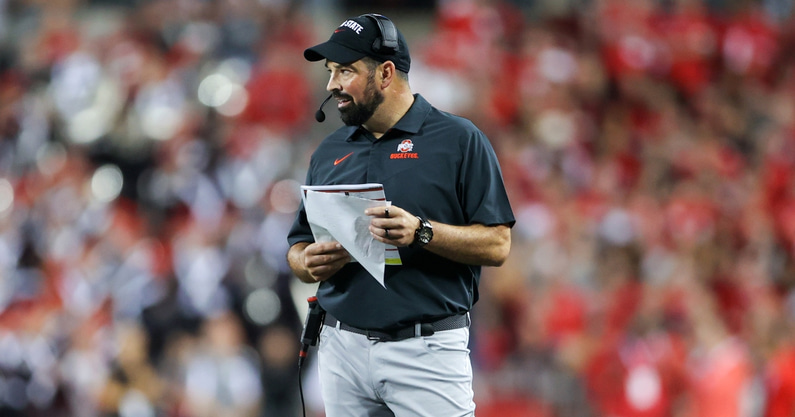 Ohio State head coach Ryan Day gave an injury update on his two wide receivers Jaxon Smith-Njigba and Julian Fleming, who both saw limited snaps in the Buckeye's 77-21 over Toledo last Saturday as they return from injury. Day was asked if the duo would be fully ready to go and play extended snaps this weekend's matchup versus Wisconsin.
"I think so, I think coming off of last week you saw Julian get in there and catch two touchdown passes, which was great. And Jaxon caught a couple of balls, and so we'll kind of just keep taking it day by day and see how they do, but so far so good," Day said.
Smith-Njigba suffered a lower-body injury in the first quarter of Ohio State's opening game versus Notre Dame. He returned briefly in the second quarter of that game but did not return in the second half or in the Buckeye's week 2 matchup versus Arkansas State.
CLICK HERE to subscribe for FREE to the On3 YouTube channel
Flemming missed the first two weeks of action for Ohio State, making his season debut against Toledo after suffering an injury during fall camp. Flemming caught three passes for 23 yards and two touchdowns last week, and hopefully he and Smith-Njigba will be fully healthy and in mid-season form for the Buckeye's first Big Ten conference matchup of the season this weekend.
Ryan Day describes his overall feeling entering the start of Big Ten play
Ohio State dominated their non-conference schedule to start off the season, starting off the year 3-0 and winning their first three games by an average win margin of 36.6 points. Now the Buckeyes enter conference play, and start their journey back to the Big Ten Championship game this weekend with a primetime home game Saturday night versus Wisconsin, and head coach Ryan Day spoke about the stakes of this matchup.
"Anytime you're in conference play it ramps up a little bit, everything means a little bit more. Wisconsin's a very good team, epitomizes everything that the Big Ten is all about, really good coaching, very sound, same thing want to control the football," Day said.
Day also spoke about the Badger's personnel, who for years have been a model of consistency regarding elite running back and offensive line play in the Big Ten.
"I think they have very good players, I think Graham Mertz is an excellent quarterback, and multiple running backs, the offensive line is really good, very good players on defense," Day said. "They're always good, they're always well coached, they're always sound, and they have very good talent. So this is gonna be a big challenge."
Day was also asked how he feels about his squad heading into Saturday's matchup following such a dominant performance in week 3, as they won 77-21 over Toledo.
"Kind of how I feel every week, which is whatever happened the week before doesn't really matter, what matters is what you do this week, and so we need a really good Tuesday practice and Wednesday practice, and then great preparation going into the game," Day said.