Ryan Day on young QB's transition to college: 'It's been hard for him'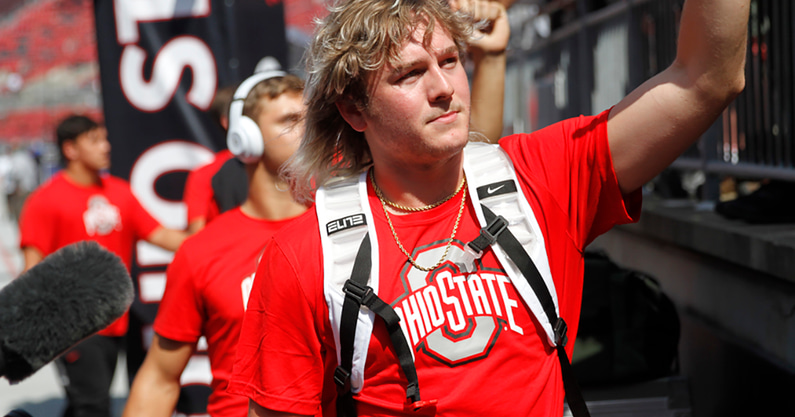 After enrolling at Ohio State a full season early, Ohio State quarterback Quinn Ewers is facing expected challenges with the Buckeyes, according to head coach Ryan Day.
There's no shortage of intrigue around the No. 10-ranked Buckeyes, including the status and progress of the young phenom. Day shared his thoughts on Ewers' transition to college on Wednesday.
"I think he would tell you that it's been hard for him," Day said. "Kind of jumping into this thing during the preseason, and then being out for a bit of a stretch. We're trying to get him as much information as we can, but there's a lot of catching up to be done there.
"He's trying, he's working at it but once we get to the season, it's hard to catch guys up and get them reps because we need to get the guys reps who are going to be in the game."
Minimal reps, mega NIL deals for Quinn Ewers
With the 2021 season in full swing and the Buckeyes going all-in on red-shirt freshman C.J. Stroud, Quinn Ewers hardly has opportunities to throw in practice.
"He does (throw at practice), he'll get a few reps and he'll get some reps today," Day said. "I can't sit here and tell you that he gets enough reps to be able to prepare to play in a game right now. These young quarterbacks need as many reps as they can get to be ready to play in a game."
Despite limited reps and a challenging first few months of college, Ewers' star factor still helped him sign multiple highly profitable NIL deals.
In August, Ewers announced his first endorsement deal with Holy Kombucha, which included cash and equity. Rickart Automative in Columbus gave the freshman is brand new F-250 Tremor that was custom made.
The biggest deal, however, is with GTSM, an autograph dealer. Ewers signed a 3-year, $1.4 million deal with GTSM on Aug. 31.