Ryan Day reveals how much injuries to Marvin Harrison Jr, Cade Stover impacted game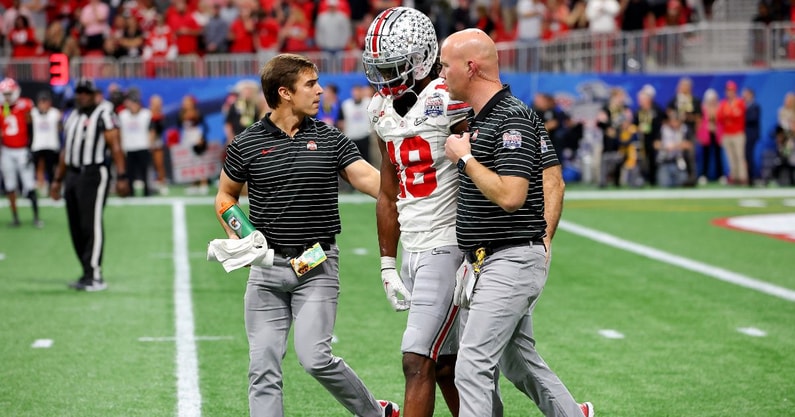 CJ Stroud lost two of his most reliable receiving assets throughout Ohio State's 42-41 College Football semifinal loss to Georgia. Tight end Cade Stover went down early, and wideout Marvin Harrison Jr. followed suit a couple of quarters later.
"We lost Cade early in the game, which really sent us into a little tailspin in a couple of groupings. … To say that losing Marv didn't have an impact on the game, it absolutely did," Ohio State head coach Ryan Day said after the loss. "What this guy did and the way he competed in the second half with all those things coming at him, I just can't say enough. I'm so proud of the way he played.
"He's not the only one, but he's sitting right here, and he's the quarterback of this team. Just the way he attacked this game, I couldn't be any prouder of the way he did that. Like you said, we were missing some guys out there, and we were trying to figure it out. On the biggest stage, he played one of his best games, in my opinion."
Stover's injury was bad enough that he was taken to a local Atlanta hospital for a suspected hip or lower back injury as a precautionary measure. ESPN's Pete Thamel reported Sunday morning that Stover's MRI's have come back negative.
For Harrison, Ohio State was driving late in the third quarter. Stroud tried to hit his favorite target in the back of the end zone, but on the way down suffered a major hit by Georgia DB Javon Bullard before he could haul the football in.
Harrison Jr. would not return, and Day confirmed after the game that the OSU training staff placed him in concussion protocol, which effectively ended his season.
The losses of Stover and Harrison hurt the Buckeyes offense down the stretch, but Ohio State was still in position to win the game. With less than a minute remaining, Ohio State's Noah Ruggles hooked his game-winning field goal attempt wide right as the clock struck midnight on the new year. The win catapults Georgia to the CFP final and will now battle TCU on Jan. 9 in LA.