Ryan Day shares what he sees in QB signee Lincoln Kienholz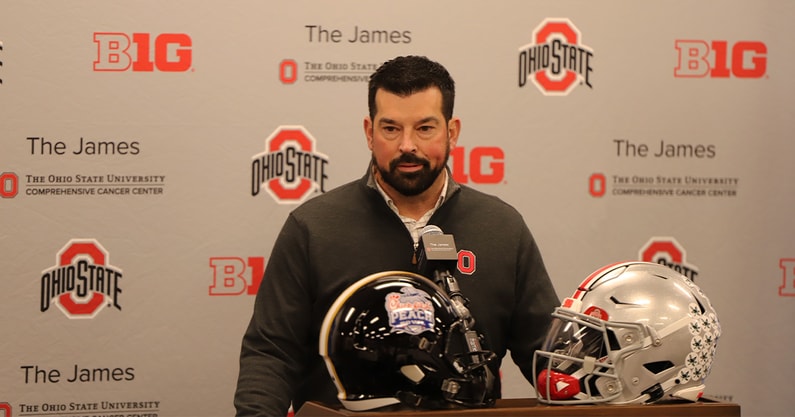 On an interesting National Signing Day this week, Ohio State landed a potential quarterback of the future in four-star Lincoln Kienholz. He'll jump right into a quarterback competition next season to replace CJ Stroud, and Ryan Day spoke highly of what he brings to the table.
Kienholz came in as the No. 214 recruit in the nation and the No. 15 quarterback from the class of 2023, according to the On3 Consensus, a complete and equally weighted industry-generated average that utilizes all four major recruiting media companies. But he played three sports in high school — football, basketball and baseball — and that athletic ability was enticing to Day and the Buckeyes.
However, Day said Kienholz's mentality was another big reason why he wanted him to come to Columbus.
"Multiple sport athlete and a very good multiple sport athlete," Day said. "Did multiple things, played multiple sports, but played them very, very well. Liked the way he competed, liked his athleticism, liked his makeup when he came to visit us. Came here, saw the environment and [was] like, 'I want this,' and that's a huge part of it.
"This isn't for everybody. Being the starting quarterback for Ohio State's not for everybody. It's got some unbelievable things, but there's a lot of things that come with it. He kind of looked at it and was like, 'This is what I want.' That was important. I liked his makeup. I thought Corey [Dennis] really did a great job building a relationship with he and his mom. And I think he saw the opportunity here. Combine all those those things together, we're excited to have him."
Kienholz is an important part of Ohio State's recruiting class, which currently ranks No. 5 in the country, according to the On3 Consensus Team Recruiting Rankings.
Ryan Day credits Ohio State signees for sticking with Buckeyes
Ohio State coach Ryan Day just completed another very impressive recruiting class, ranking fifth nationally and first overall in the Big Ten. Day also fielded that class while fighting off NIL offers from other schools for his recruits.
When asked what that loyalty says about the signees in his class, Day made his feelings clear.
"It says a lot about our guys," Day said. "Seven guys from Ohio and 19 guys here. These are guys who want to be Buckeyes. They know the opportunity here and there's a lot that comes with deciding on where to go to a school.  A lot of these guys did it for the right reasons. What I mean by that is focusing on the things that truly matter in this case.
"What are those things? First off, it's the development at Ohio State. It's the ability to come in and get an unbelievable education. It's being a part of a program that's going to be in the national championship hunt every year, but also a part of an unbelievable culture and the city of Columbus. There's just so many things that come with being a Buckeye that these guys recognized early on."