Urban Meyer says Ohio State would have beaten TCU in national championship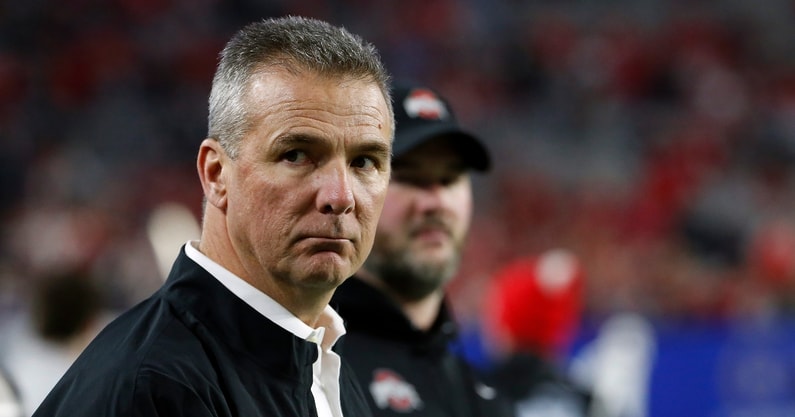 Urban Meyer believes Ohio State would've defeated TCU in the 2023 College Football Playoff National Championship Game.
Of course, the Buckeyes fell to the Georgia Bulldogs in a last-second thriller during the Semifinals of the College Football Playoff, a missed field goal as the clock struck midnight ended Ohio State's season. Still, Ryan Day's squad earned the respect of the college football world during their showdown with the eventual champions, taking them to the brink and almost sending them home.
Now, Meyer is making his stance clear, as the former Buckeyes leader told JD PicKell on The Hard Count that Ohio State would've defeated the Horned Frogs in the title game if they were to make it.
"Well they did it," Meyer responded, asked what it would take for Ohio State to contend for a national title in 2023. "They were a field goal — that, maybe they get a little closer and the kicker hits a field goal, Ohio State's got there what was it, ninth national championship, right? They would've beat TCU. Unless someone got injured or turnovers, but they would've had the more talented team. You saw what happened with Georgia in that game. So they're right there.
"They have to beat the team up North. They have to get to Indianapolis. But there's nothing — right now Ohio State is as strong a program as there is in the country. Recruiting is elite. They're got an elite coaching staff and elite players. So they've just got to take care of business."
If Ohio State made the College Football Playoff title game, the conversation around Day and the Buckeyes may be completely different entering the 2023 season. Instead of talking about what a wonderful coach he is, many are wondering whether he's even the right leader for the program moving forward.
Continuing, that has a lot to do with Day's recent record against the Michigan Wolverines, who ironically fell to the Horned Frogs in the College Football Playoff. Perhaps it's somewhat of a thinly-veiled shot at the Wolverines from Meyer, stating his confidence that Ohio State would've taken care of business against TCU, unlike Michigan.
Nevertheless, it's tough to argue with Urban Meyer, knowing how Ohio State played against Georgia, and what the Bulldogs did to the Horned Frogs. Ryan Day and the Buckeyes will have another shot at a title in 2023, and they'll for sure be picked by many to get the job done.