Urban Meyer shares what he looks for in quarterback competitions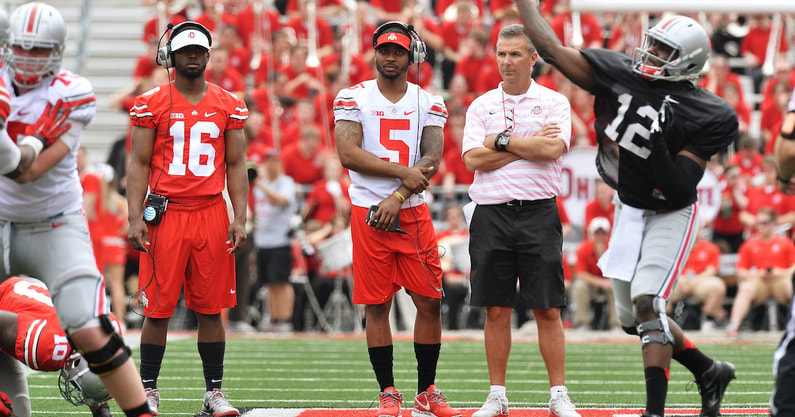 Urban Meyer coached a spate of great college quarterbacks in his career. From Alex Smith at Utah to Tim Tebow at Florida and band of top-shelf signal callers he amassed at Ohio State.
Speaking with On3's J.D. PicKell on "The Hard Count," Meyer delved into how he evaluates players for that position. Normal tangible measures like completion percentage matter, but Meyer is looking for something a little more than just that.
"I want to see — a quarterback's job, how he throws it, his completion percentage, does he take care of the ball, those are all very critical — but does he score touchdowns? Does he get first downs and does he get touchdowns," Meyer said. "That's all I cared about. Now I would always have a category two, three, four five. And that would be completion percentage, accuracy on the short, medium and long throws, etc. — those are all tangibles. The other tangibles is that 'Does he score points and move the team?'"
As Meyer sees things, a quarterback's ability to march a team down the field and extend drives is the closest thing to an all-encompassing evaluation of the job.
"Because that takes everything in to consideration. That takes leadership. That takes toughness. That takes the ability to extend plays and get first downs, which I think are the most important quality in a quarterback," Meyer said.
Measurables, of course, matter to Meyer. He referenced as much — and a few of the top quarterbacks in the 2023 NFL Draft class — while discussing Devin Brown and Kyle McCord, the two quarterbacks competing for the Ohio State job in the fall.
"Well, you've got the measurables," Meyer said. "It's a little bit like the combine, the NFL Draft, you're going to go look at Anthony Richardson, CJ Stroud, Bryce Young, they had great combines. You're going to see Brown and McCord throw the ball around, you can see them run, you can see them escape pressure, and those are the measurables. And you chart those very closely but I'd even go a step further, what's the ultimate job of a quarterback? To get a first down."
Meyer, a winner of multiple national championships as a coach, acknowledges he's a tad different in this aspect. But it's hard to argue with a 187-32 career record as a head coach.
"I always had a, maybe different approach. I don't know. Ryan Day was my quarterbacks coach, when we had to make that decision. And I've had other great — Dan Mullen — I've had as good of quarterback coaches as you can imagine. But I would always simply look: I want to see the drive chart," Meyer said.