Urban Meyer stresses importance of Michigan game for Ryan Day in 2023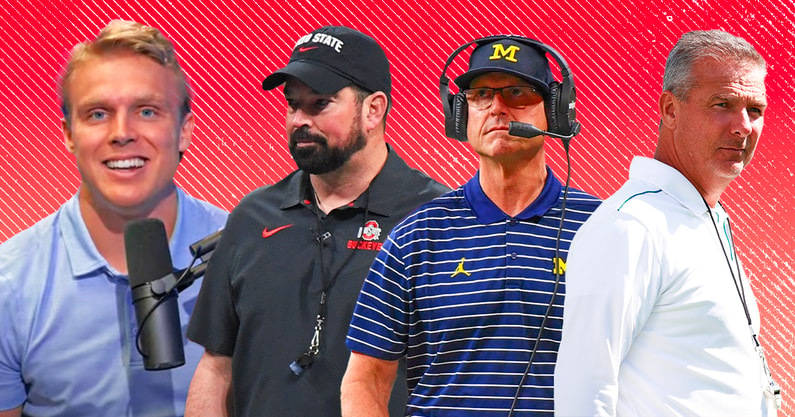 Urban Meyer knows just as well as anyone about the importance of beating Michigan for whoever is at the helm of the Ohio State Buckeyes.
The former leader of the Buckeyes never lost to the Wolverines over his time in Columbus, a perfect 7-0 before leaving the program. However, his hand-picked replacement Ryan Day hasn't fared as well.
While Day won his first game against the Wolverines, it's been Jim Harbaugh and the Wolverines who've got the best of the Ohio State leader over the last two seasons. It's kept the Buckeyes out of the Big Ten title game, and dashed their College Football Playoff dreams at other times as well.
CLICK HERE to WIN March Madness Prizes in On3's Bracket Challenge
Joining JD PicKell on The Hard Count, Meyer stressed the importance of the Michigan game for Day in 2023, revealing he truly believes beating Michigan isn't everything for Ohio State, but it's the only thing.
"It's the same every year," Meyer responded, asked what the stakes are for Day. "I remember Gerry DiNardo, who was my colleague at the Big Ten Network, he asked me, 'Do you really believe that if you win every other game and you lose to the team up North, it's a bad year? Do you really believe that if you win, or lose all your games and beat the team up North?' I really do. I guess I was brainwashed, in the ten-year war with Bo Schembechler and Woody Hayes in that game. That game's everything.
"Normally it determines who's going to go to the Big Ten Championship Game. It determines who's going to go to the Playoff nowadays. So the stakes are always high. They have a returning quarterback. The Buckeyes have to go to Ann Arbor. That's going to be a tough road. The Wolverines have really done a nice job the last couple of years."
Of course, Michigan defeated Ohio State two years ago in Ann Arbor, but many wrote it off as a one-time thing for the Wolverines, being that they had home-field advantage. However, Harbaugh made a statement last season, railroading the Buckeyes in Columbus by a score of 45-23.
Nevertheless, it didn't dash Ohio State's dreams, as the Buckeyes were chosen as one of the four teams to participate in the College Football Playoff. They made a statement there, taking it to the wire against the reigning champion Georgia Bulldogs, but Day's squad still came up short.
While Day has been phenomenal in many aspects of his coaching career, his record against Michigan is what Buckeyes faithful will judge him by. He'll need to capture a victory in Ann Arbor to get Ohio State fans back on his side for good.
Mark Nov. 25 on you calendars, because that's when Ryan Day gets his shot at the Michigan Wolverines once again. Time will tell if he can have success in the same vein as Urban Meyer, but it's obvious to say it's a must-win for Day and company if he wants to do so.