Brent Venables makes 1st in-home visit as new Oklahoma coach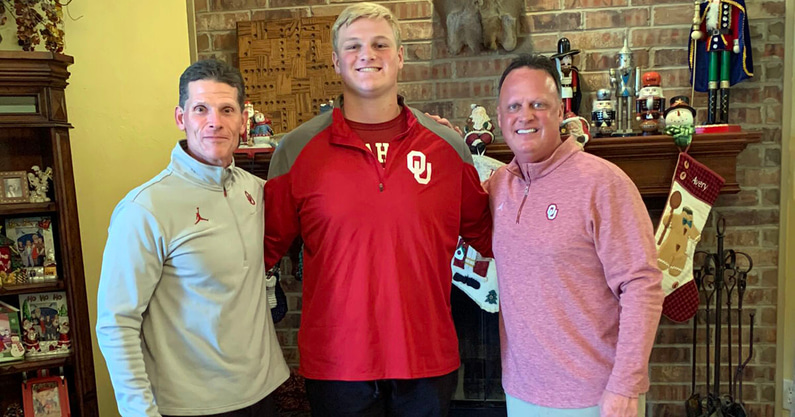 It didn't take new Oklahoma coach Brent Venables long to hit the recruiting trail for the Sooners.
A few hours after he was officially introduced as the new OU coach in Norman, he made the quick trip across Oklahoma City to Edmond to visit with four-star offensive lineman Jacob Sexton out of Deer Creek.
Sexton shared a couple of photos from the in-home visit. Sexton can be seen in the picture along with Venables and longtime Sooner assistant Cale Gundy.
He also shared another photo of Venables and his family.
Jacob Sexton key Oklahoma commitment
While some OU commitments have hinted at looking at other schools, Sexton has continually said he's 100% on board with the Sooners. He has tweeted a few times since Venables was hired about how excited he was about the hire.
Sexton is ranked as the No. 216 player in the country, according to the On3 Consensus, a complete and equally weighted industry-generated average that utilizes all four major recruiting media companies. He is also ranked as the No. 17 interior offensive lineman in the country and the fourth-best player in Oklahoma. On3 ranks Sexton as the No. 174 player overall and the fifth-best player in Oklahoma.
He originally committed to the Sooners on July 3. He took official visits to Alabama, Oklahoma State, Texas and Texas A&M.
The Sooners currently have the nation's No. 11 recruiting class, according to the On3 Consensus Team Recruiting Ranking. Brent Venables will have nine days to quickly pump life back into the Sooners' class after Lincoln Riley unexpectedly left for USC.
Venables excited about building foundation at OU
Brent Venables is still in the early stages of evaluating Oklahoma's roster, but he knows that putting together a team of quality players that fit what the team is trying to do is important.
"I'm always looking, forward thinking. Certainly in the now, but in the very near future in the transition to the SEC," Venables said when asked about constructing Oklahoma's roster. "It's always about the players. That's where it's going to start, evaluating the players and finding where our needs are and addressing those needs as quickly as we can. And then building a foundation for them both from a philosophy standpoint, structure standpoint and then the development that goes with that. That's not an overnight thing like we all know. And then again, it's all about game planning and once you get to that stage down the road."