Brent Venables reveals first impressions of Oklahoma quarterback Dillon Gabriel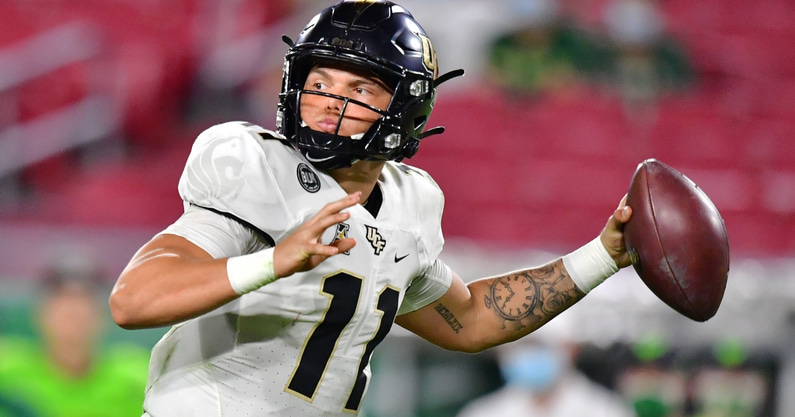 Oklahoma's offense is going to look a little bit different this season. Former head coach Lincoln Riley is now at USC, and Brent Venables is the new Sooners leader. Spencer Rattler opened last season as Oklahoma's starting quarterback, and he was later benched for Caleb Williams. Now, both Rattler and Williams are elsewhere and former UCF quarterback Dillon Gabriel is tasked with leading Oklahoma's offense.
Venables hasn't been able to see Gabriel work on the field that much yet, but he just gave his initial impressions of Gabriel so far at Oklahoma. Even without seeing his quarterback throw very much, Venables has been incredibly impressed with the leadership qualities of Gabriel.
"Obviously I wish I could see him throw, haven't been able to do that. I've seen video like probably everybody else," Venables said when asked about his initial impressions of Gabriel at Oklahoma. "When we were in the recruiting process, it really didn't take much recruiting. It was already kind of – when we asked him, he was ready to come with just a few questions to be answered.
"But he's a leader, he's a worker, he's very ambitious, he's self driven, very humble, incredibly confident. Great self awareness, understands where he needs to get better and that's just through conversation. Guys follow him. The best of the best make others around them better, and he's intentionally done that through relationships and through work."
Venables: Gabriel is 'a pro in every way'
Gabriel threw for over 3,500 yards with at least 29 touchdowns in each of his first two seasons as UCF's quarterback in 2019 in 2020. In coming to Oklahoma, Gabriel is reuniting with his offensive coordinator from that 2019 season, as Jeff Lebby has taken the same role under Venables with the Sooners.
Gabriel knows that being Oklahoma's quarterback comes with a great deal, but Venables is confident in him due to his competitiveness and humility.
"But he's a good athlete, got good quickness, very competitive, ultra competitive, and just got a great sense of humility to him that it's fun to deal with," Venables added. "Our job is hard enough as it is. If I was a jerk up here, you all still have to cover Oklahoma but it wouldn't be fun for y'all and it certainly wouldn't be fun for me if I was dealing with a jerk either. Same thing when you're coaching. It's no different. You can become disinterested in coaching somebody that doesn't want to be coached. That happens over time too. That makes coaching no fun when there's not buy in, when there's not guys that want to be held accountable, things of that nature.
"But he's a pro in every way. He knows he has to be the example as one of the leaders in this program, as the potential face of a program like Oklahoma. Being the quarterback at Oklahoma's a big deal, man. It's a big deal and he knows it and he values it and he respects it. So he just works very hard every day. This is just kind of who he is. He works hard every day. He doesn't want to let anybody down and he's betting on himself. So he's fearless, he's got a go for broke mindset, go for broke attitude and I'm really excited to see him go to work."